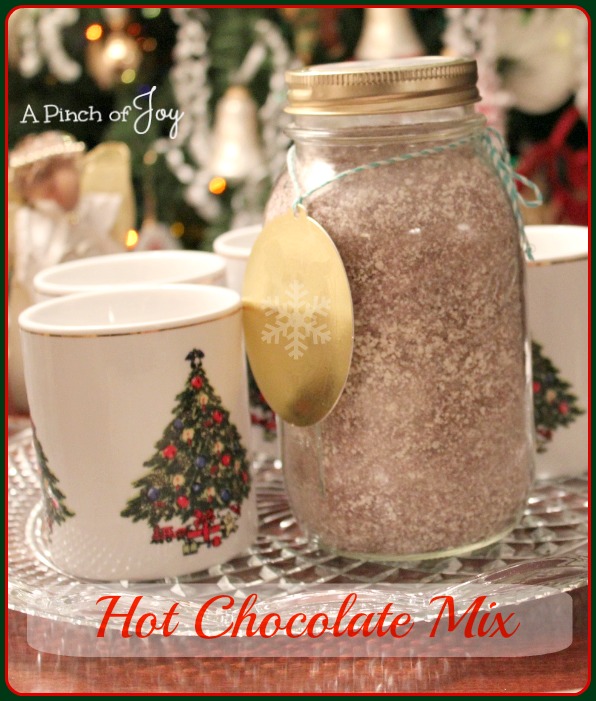 This is a basic hot chocolate mix. I always make the first batch of the season as soon as the temperature drops so we are ready for the cold weather.  Hot chocolate is also Christmas Eve tradition at our house.  An early supper – a lighter meal than dinner – is always planned.  Afterwards  there is a Christmas Eve play or service to attend.  Then back home, still in our finery, we light the tree and some candles in the living room.  Bytes and his brother used to beg to open "just one present tonight" and then got to choose which one.  They don't do that anymore.  (Although secretly, I think, they still want to!)  Mostly we just relax and talk with Christmas music in the background.   With hot chocolate in the Christmas mugs, of course.   It's a ritual all ages can appreciate!

 If the hot chocolate drinkers in your house are adventurous, make this hot chocolate mix with different flavors of creamer.  Try cinnamon or hazelnut, or whatever your current favorite may be.    If your store doesn't have the small containers of creamer, use about 1 ¾ cups.   Use only powdered (confectioner's) sugar because it mixes more quickly and smoothly with the mix to begin with and then with the hot water.  Running the powdered milk through the food processor is an optional step, but worth it especially if you are giving it as a gift.  It looks "prettier" and mixes a little more nicely.  Depending on the size of the mug, use 3 or 4 tablespoons of mix per mug of hot water.

This is a good warm up from cold outdoors.  Come in from a cold sledding expedition or scraping ice off the car windows and 90 seconds later you can have a cup of satisfying warmth in your hand.  It's a great breakfast drink, a source of inspiration for your work day and or chocolate comfort whenever and just because.   There's a cup on the corner of my desk right now!
Gifting the mix is so easy.  Mix and distribute amongst four quart jars.  Or find a gallon jar and gift someone the whole thing!  Bytes was the recipient of the giant container of hot chocolate mix last year.  He's hinted he'll be ready for another one this year!   You can add a tablespoon measure to each jar.  You could also add mini marshmallows in a sandwich bag.  Or you could include crushed peppermint candies in a snack sized zipper bag.  Add a personalized mug, too, as I did last year.  (Didn't you know Bytes starts with a J? 🙂
Hot Chocolate Mix labels can be downloaded by clicking on the link.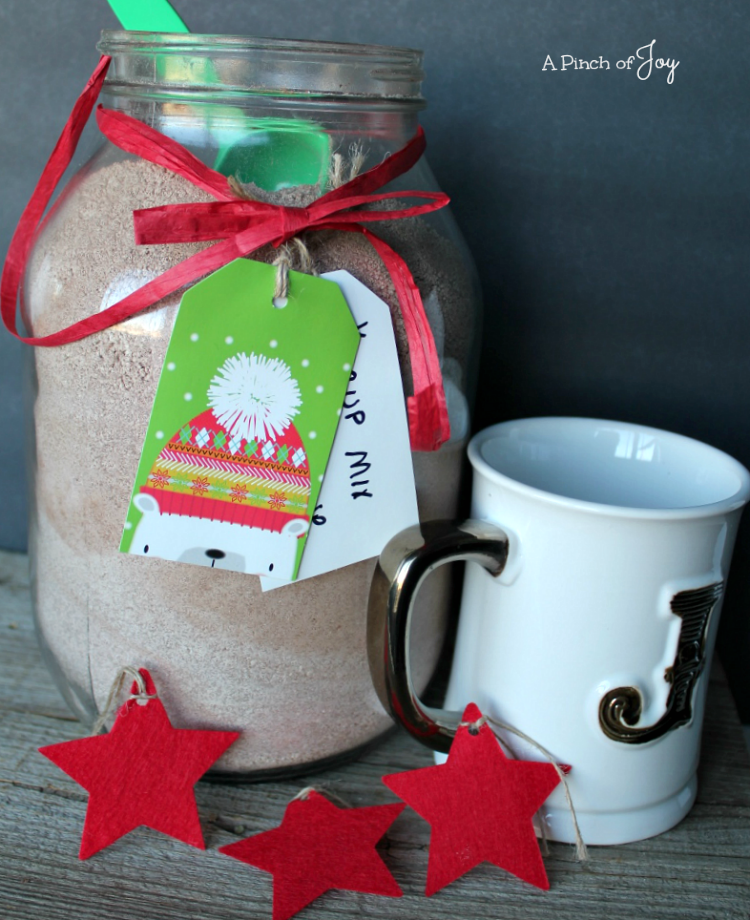 Hot Chocolate Mix
Author:
A Pinch of Joy by Charlene Vance
Ingredients
1 8 quart package powdered dry milk
1 16 ounce package chocolate flavored drink mix
1 16 ounce package powdered creamer, your favorite flavor
1 cup powdered sugar (do not substitute)
Instructions
Optional – Use food processor to reduce size of powdered milk particles so the blend is very smooth.
Use large stock pot or similar container and pour in all ingredients. Mix well.
To serve, put 3 to 4 tablespoons of mix per cup of hot water and stir well.
Store in airtight container for up to three months.
Gifts in a Jar and free printables:  Savory Chicken Noodle Soup Mix       Hot Chocolate Mix        Chocolate Andes Mint Cookies       Apple Butter Crumb Cake Mix     Potato Soup Mix  Hot Chocolate Mix         Toffee Blondies Mix     Chocolate Andes Mint Cookie Mix   Chai Tea Mix  Chocolate Chip Snickerdoole Pancake Mix
12 Day of Christmas Cookies:    Fruitcake cookies   Almond Coconut Crunch Cookies      Pineapple Walnut Cookies       Maple Caramel Swirl Cookies           Peppermint Chocolate Thumbprints         Cherry Almond Chews        Polka Dot Macaroons         Red Velvet Cookies with white chocolate and walnuts       Butterscotch Pecan Softies – no bake        Toffee Crisps       Crescent Mini Chip Cookies    Minty Christmas Cookies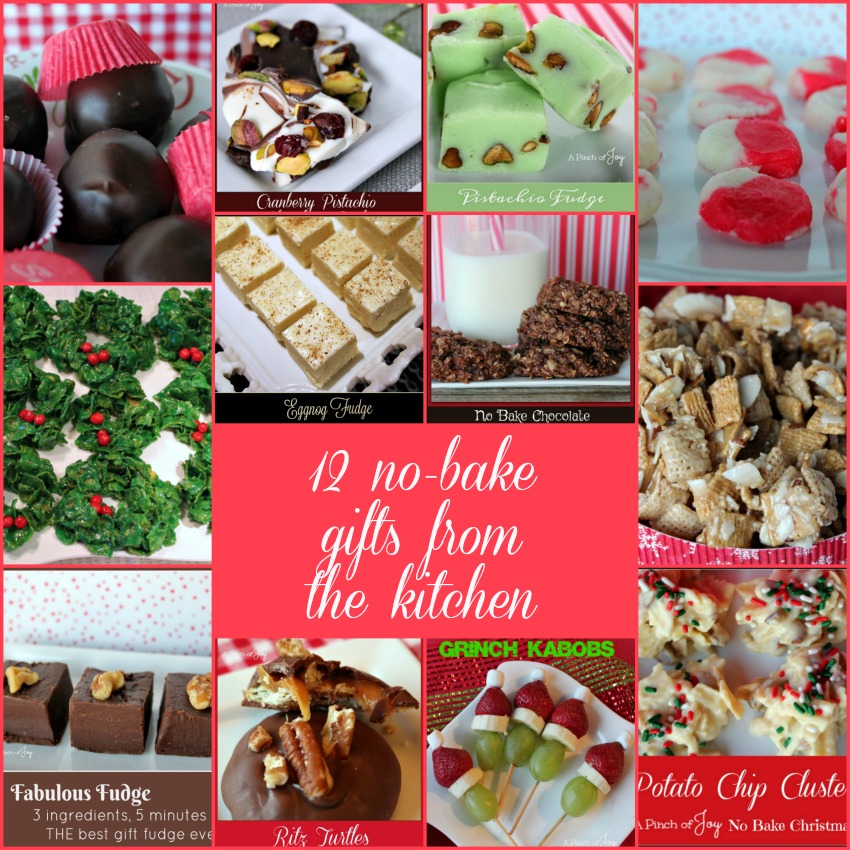 12 Days of Christmas candy and no-bake recipes:     Christmas Wreath        Potato Chip Clusters    Cherry Mash Bars  Pistachio Fudge      Cinnamon Swirl Cream Cheese Mints      Classic Oreo Truffles  Cranberry Pistachio Chocolate Bark    Ritz Turtles   Gooey Golden Chex Mix     Fabulous Fudge     No-Bake Chocolate Cookies
no bake and no stress treats in small batches.  For when you want to have a variety of treats without a lot of leftovers. 
A Dozen Awesome Appetizer and Delicious Dips from a Pinch of Joy
Bonus!!
Super Delicious Big Batch Cookies   A unique, crispy shortbread type cookie textured with oatmeal, coconut and chocolate chips.
Macaroons and Chocolate — Chewy Coconut macaroons dipped in smooth chocolate
Peanut Butter Chocolate Bars —  tastes just like the peanut butter cups in the bright orange wrapper

Welcome to A Pinch of Joy!  I'm so glad you stopped by today!   Follow A Pinch of Joy using the icons on the teal bar at the top of the page so you don't miss a thing!   I'd love to have your company on this venture!!  Share: if you found this helpful or inspiring please click one of the buttons below!  Your support of A Pinch of Joy is appreciated!
Shared with these awesome link parties here