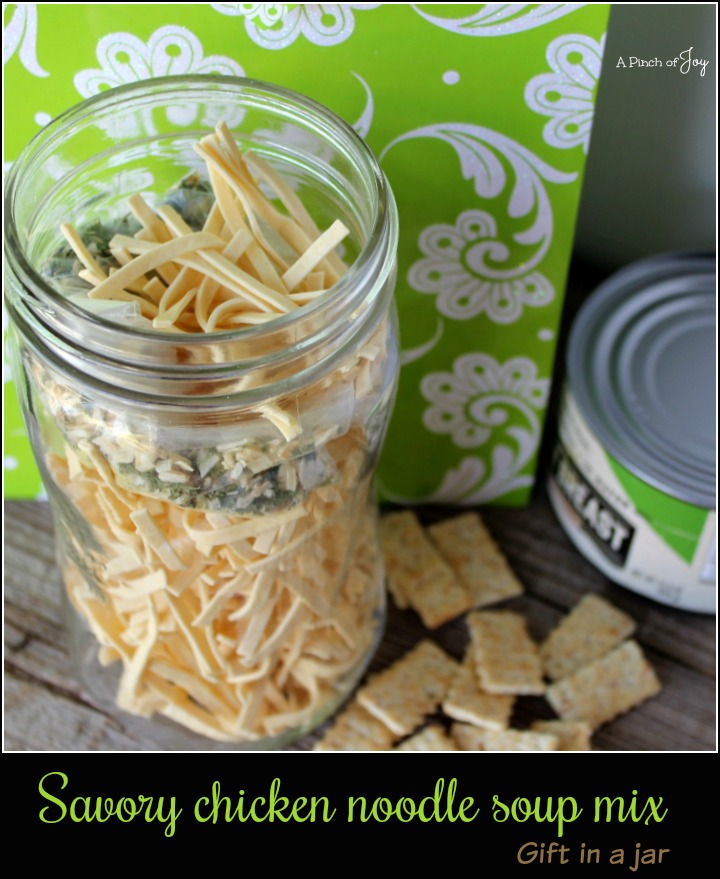 Savory chicken noodle soup mix is not your grandma's chicken soup even though it tastes just like it!  And just like grandma's soup, this makes a healthy, comforting gift — but so much easier to make.   Pair a jar of mix with a can of chicken and it is perfect for a sick friend.  A minute or two of measuring water and waiting for the soup to cook is all the effort needed to make four servings of healthy comfort.    Chicken noodle soup mix is great for the pantry shelf as well.  A healthy no preservative quick lunch or dinner for those really busy days – just add crusty bread and/or a salad.   A single college student or young professional would also appreciate this (along with a couple of other mixes!) as a stock the shelf gift.  Minimal prep time and there will be 2-4 meals depending on the size of the servings you choose.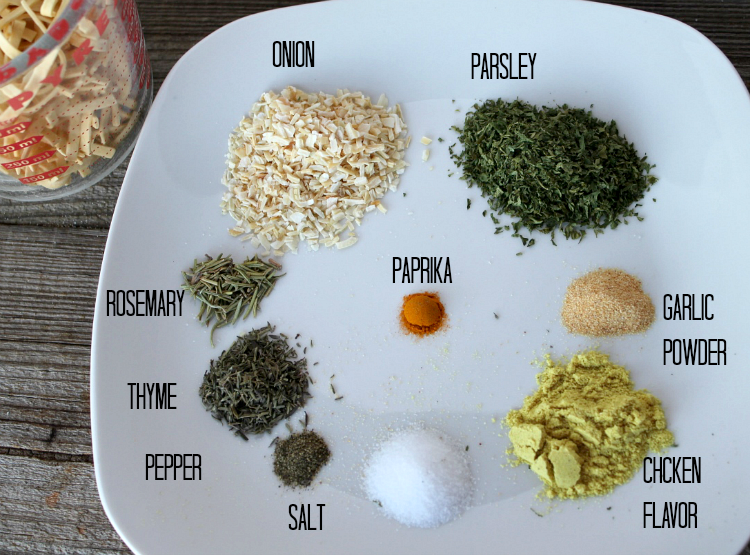 Making the mix is very simple.  Measure the seasonings shown above directly into a small plastic zipper bag –  a snack size bag – and shake to mix.  If you can't find chicken flavor powder or granules, you can substitute one wrapped bullion cube.  Technically two cups of dried noodles could fit into a pint jar.  If you use the short, wide egg noodles, they will fit with little crushing.  But I like the kluski noodles because they are thicker and a more stick to the ribs kind of food.  They are also narrow and long and fit better in a quart jar.  Add a few more noodles to the top of the jar after you've rolled and tucked the bag of seasonings in the jar.  Or add a small bag of mini crackers to fill the empty space.   This is the link to Printable Directions for Savory Chicken Soup Mix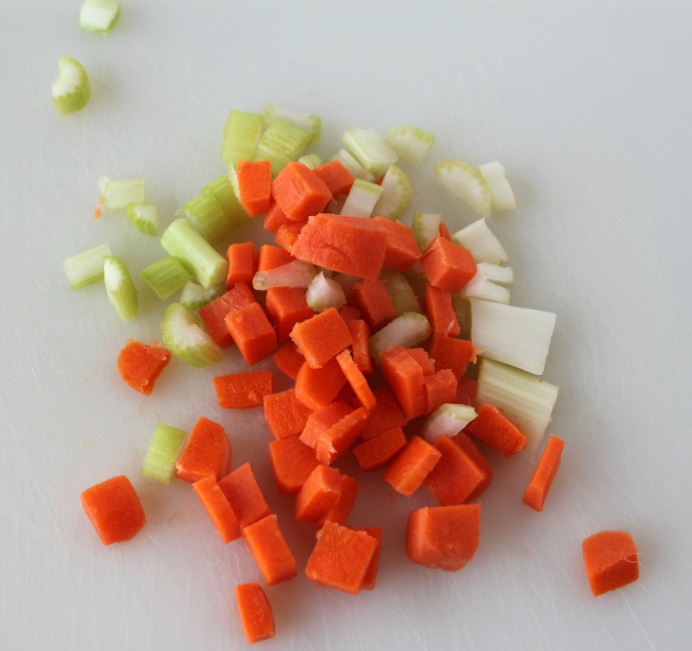 To make the soup you will need 1 jar of mix and 1 1/2 cups cooked chopped chicken (1 12 ounce can) , a stalk of celery and a carrot.   The carrot and celery is an option, if someone is really under the weather,  by the way, and doesn't feel like dicing.  For busy people — take the time anyway.  It's good for you.  Grandma said so.  🙂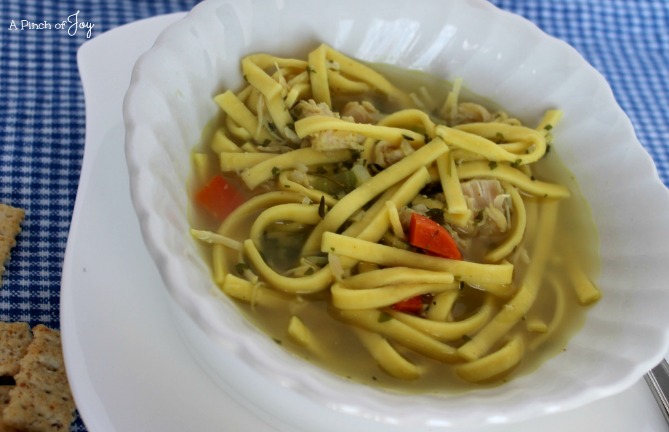 Savory Chicken Noodle Soup
A full flavor chicken soup mix -- tastes just like grandma's with less work!
Author:
A Pinch of Joy by Charlene Vance
Ingredients
1 tablespoon dried chopped onions
1 tablespoon dried parsley
½ teaspoon pepper
¼ teaspoon garlic powder
⅛ tsp paprika
½ teaspoon salt
½ tsp dried thyme
½ teaspoon dried rosemary
2 cups wide egg noodles
1 teaspoon chicken flavor powder (chicken boullion granules)
12 ounce can chicken OR 1/12 cup cooked and chopped chicken breast
Instructions
To make mix:
Combine all seasonings in a small zip plastic bag and shake to mix.
Put noodles into jar and tuck bag of seasonings on top.
To make soup:
Put 3 ½ cups of water in medium pan over medium heat.
Dice one carrot and one stalk of celery and add to water. Add seasoning packet and stir. Bring water to boil
When water reaches full boil, add noodles and reduce heat to simmer. Heat noodles until they are cooked through, about 10 minutes.
Add 12 oz can (OR 1 ½ cups chopped) cooked chicken breast and heat through.
Gifts in a Jar:  Savory Chicken Noodle Soup Mix       Hot Chocolate Mix        Chocolate Andes Mint Cookies       Apple Butter Crumb Cake Mix     Potato Soup Mix  Hot Chocolate Mix         Toffee Blondies Mix     Chocolate Andes Mint Cookie Mix   Chai Tea Mix  Chocolate Chip Snickerdoodle Pancake Mix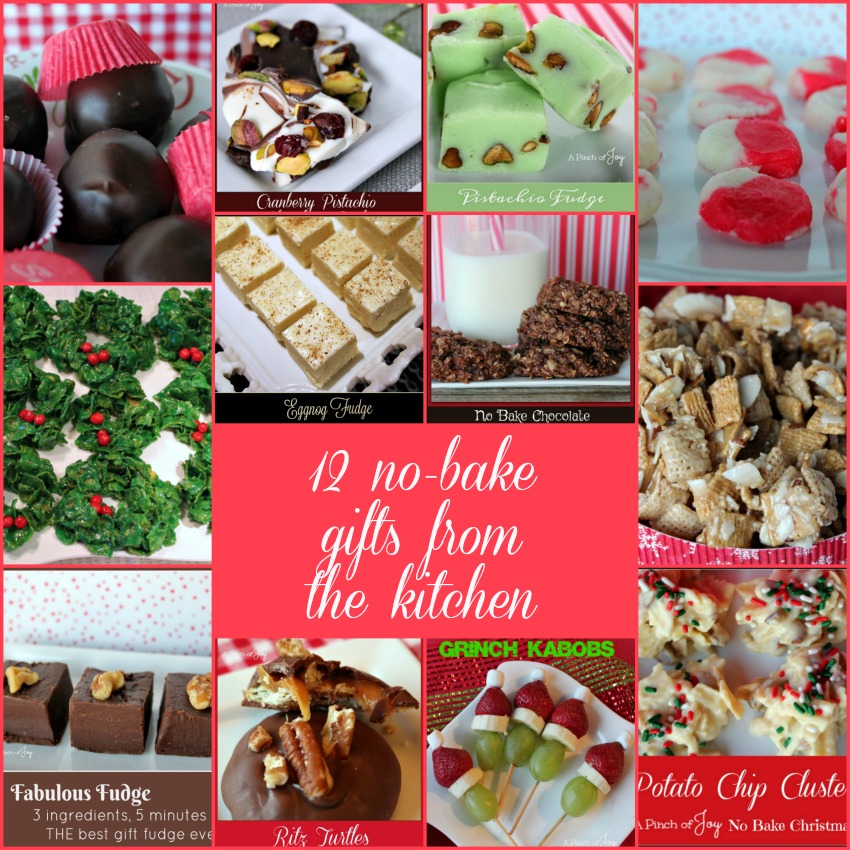 For  no-bake recipes in a 12 Days of Christmas series:     Christmas Wreath        Potato Chip Clusters    Cherry Mash Bars  Pistachio Fudge      Cinnamon Swirl Cream Cheese Mints      Classic Oreo Truffles  Cranberry Pistachio Chocolate Bark    Ritz Turtles   Gooey Golden Chex Mix     Fabulous Fudge     No-Bake Chocolate Cookies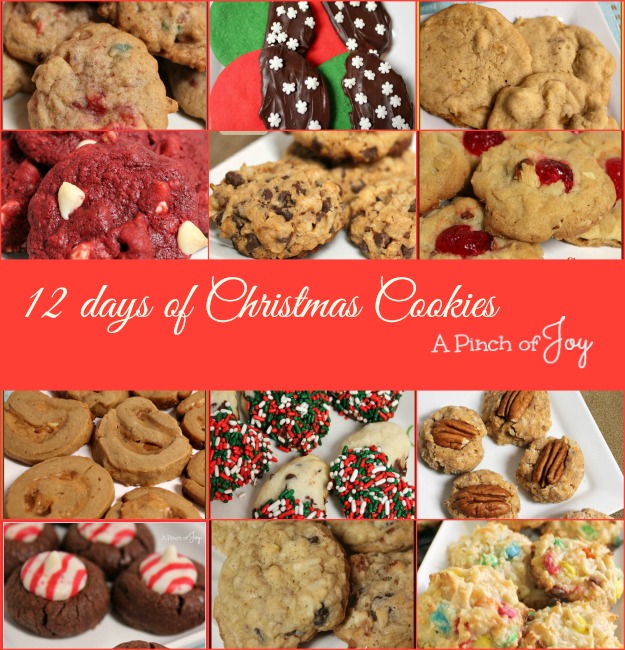 If you want cookies check these out —   1.  Fruitcake cookies   2.  Almond Coconut Crunch Cookies 3.  Pineapple Walnut Cookies    4.  Maple Caramel Swirl Cookies    5.  Peppermint Chocolate Thumbprints 6.  Cherry Almond Chews     7.  Polka Dot Macaroons   8.  Red Velvet Cookies with white chocolate and walnuts    9.  Butterscotch Pecan Softies     10. Toffee Crisps    11. Crescent Mini Chip Cookies      12. Minty Christmas Cookies
no bake and no stress treats in small batches.  For when you want to have a variety of treats without a lot of leftovers. 
A Dozen Awesome Appetizer and Delicious Dips from a Pinch of Joy

Welcome to A Pinch of Joy!  I'm so glad you stopped by today!   Follow A Pinch of Joy using the icons on the teal bar at the top of the page so you don't miss a thing!   I'd love to have your company on this venture!!  Share: if you found this helpful or inspiring please click one of the buttons below!  Your support of A Pinch of Joy is appreciated!
Shared with these awesome link parties here