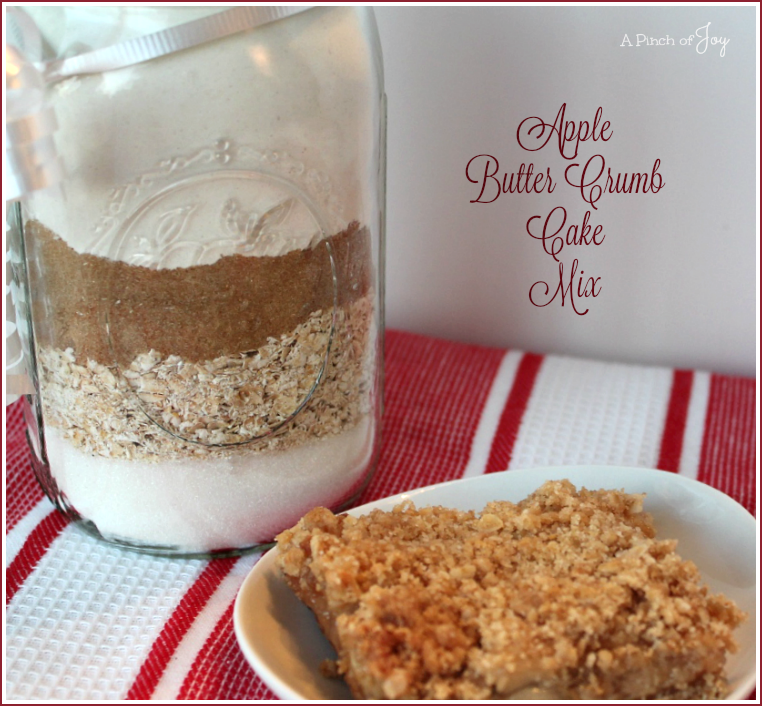 Rich, buttery streusel surrounding flavorful apple slices –mmmm.  Apple Butter Crumb Cake is delicious as a coffee cake for brunch.  It is heavenly as a dessert with a dollop of whipped cream or ice cream.    Your friends will love this mix!  Add the can of apple pie filling to the gift bag and they will love you, too.
To make the mix: Measure the ingredients in the order given.  Pour each one into a quart jar and tamp gently to keep them from shifting.   Tie gift instructions for Apple Butter Crumb Cake to the jar and decorate as you wish.   If you don't have a funnel, see this post  Potato Soup Mix for directions on how to make one with a disposable cup and for other hints on filling the jar.
Making the butter crumb crust is simple.  Melt  ¾ cup butter.  Pour the contents of the jar into a medium mixing bowl and stir several times to mix the layers together.  Pour the melted butter over the dry ingredients and stir.   As the butter is incorporated into the flour,  the mixture begins to pull away from the sides to form a crumbly ball.  Scoop out about half of the mixture into 7×11 greased baking pan. Press it firmly with the tips of your fingers or a heavy glass.  Spread the apple pie filling over the crust and sprinkle remaining  butter crumbs evenly over the filling.  Baking time is between 22-25 minutes. Overbaking will make the crust hard so check at 22 minutes and keep a close eye on it until it is done.  The crust should just begin to turn golden around the edges.
Apple Butter Crumb Cake Mix -- Gift in a Jar
Rich, buttery and utterly delicious! Make the recipe as is or put it in a jar for a scrumptious gift.
Author:
A Pinch of Joy by Charlene Vance
Ingredients
Butter Crumb mix
⅔ cup sugar
¾ cup quick oats
⅔ cup brown sugar
2 cups flour
2 teaspoons baking powder
½ teaspoon salt
Cake
¾ cup butter, melted
1 29 ounce can apple pie filling
Instructions
Preheat oven to 305 F.
Pour contents of jar into medium mixing bowl and stir several times to mix the layers together.
Melt butter and add to dry ingredients.
Stir until the mixture forms a crumbly ball.
Press about half of the butter crumb mixture into 7x11 greased baking pan.
Spread apple pie filling over crust.
Sprinkle remaining butter crumbs evenly over the filling.
Bake for 22-25 minutes or until the crust is beginning to turn golden.
Notes
Adapted from HyVee Dietician K. George
Gifts in a Jar and free printables:  Savory Chicken Noodle Soup Mix       Hot Chocolate Mix        Chocolate Andes Mint Cookies       Apple Butter Crumb Cake Mix     Potato Soup Mix  Hot Chocolate Mix         Toffee Blondies Mix     Chocolate Andes Mint Cookie Mix   Chai Tea Mix  Chocolate Chip Snickerdoole Pancake Mix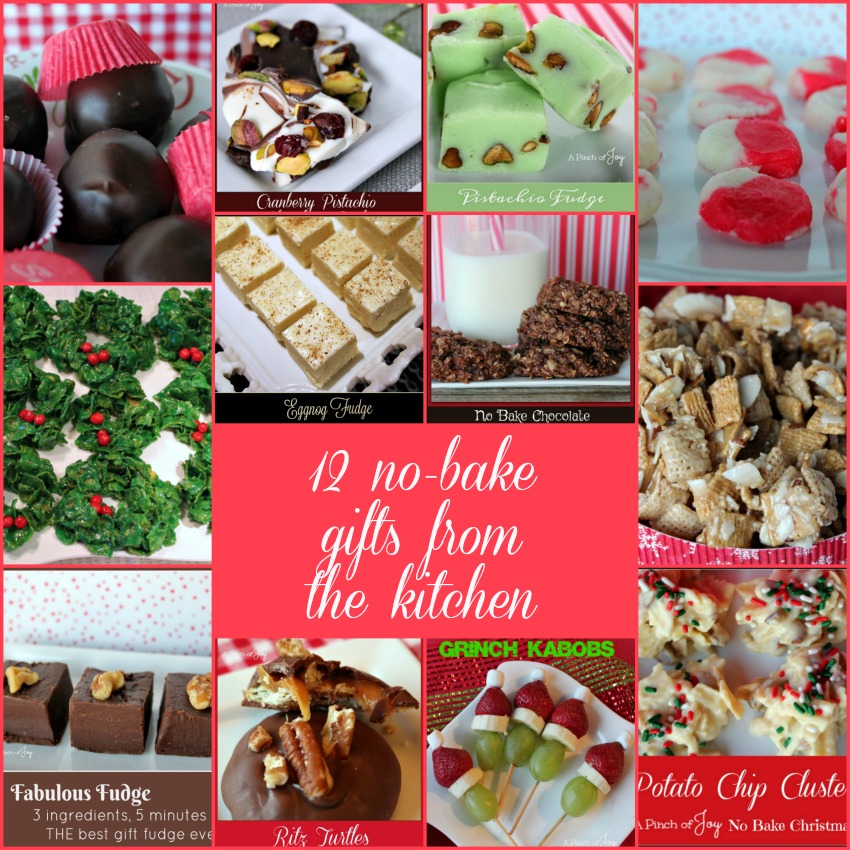 For  no-bake recipes in a 12 Days of Christmas series:     Christmas Wreath        Potato Chip Clusters    Cherry Mash Bars  Pistachio Fudge      Cinnamon Swirl Cream Cheese Mints      Classic Oreo Truffles  Cranberry Pistachio Chocolate Bark    Ritz Turtles   Gooey Golden Chex Mix     Fabulous Fudge     No-Bake Chocolate Cookies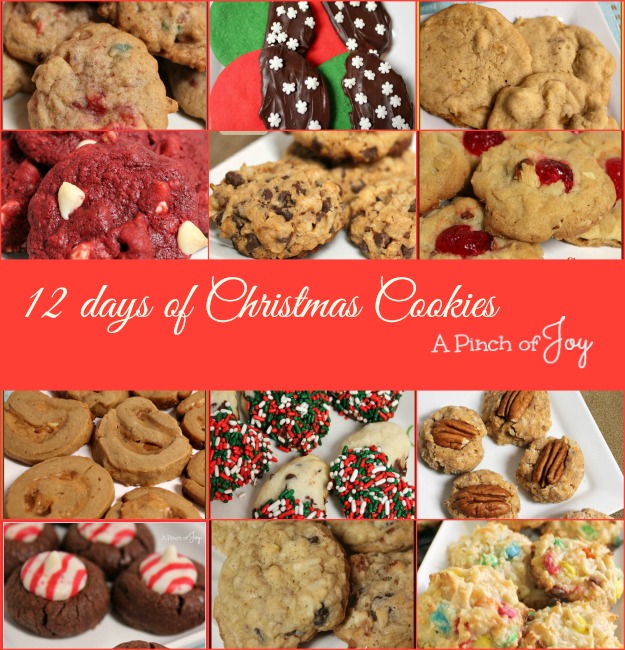 If you want cookies check these out —   1.  Fruitcake cookies   2.  Almond Coconut Crunch Cookies 3.  Pineapple Walnut Cookies    4.  Maple Caramel Swirl Cookies    5.  Peppermint Chocolate Thumbprints 6.  Cherry Almond Chews     7.  Polka Dot Macaroons   8.  Red Velvet Cookies with white chocolate and walnuts    9.  Butterscotch Pecan Softies     10. Toffee Crisps    11. Crescent Mini Chip Cookies      12. Minty Christmas Cookies
no bake and no stress treats in small batches.  For when you want to have a variety of treats without a lot of leftovers. 
A Dozen Awesome Appetizer and Delicious Dips from a Pinch of Joy

Welcome to A Pinch of Joy!  I'm so glad you stopped by today!   Follow A Pinch of Joy using the icons on the teal bar at the top of the page so you don't miss a thing!   I'd love to have your company on this venture!!  Share: if you found this helpful or inspiring please click one of the buttons below!  Your support of A Pinch of Joy is appreciated!
Shared with these awesome link parties here