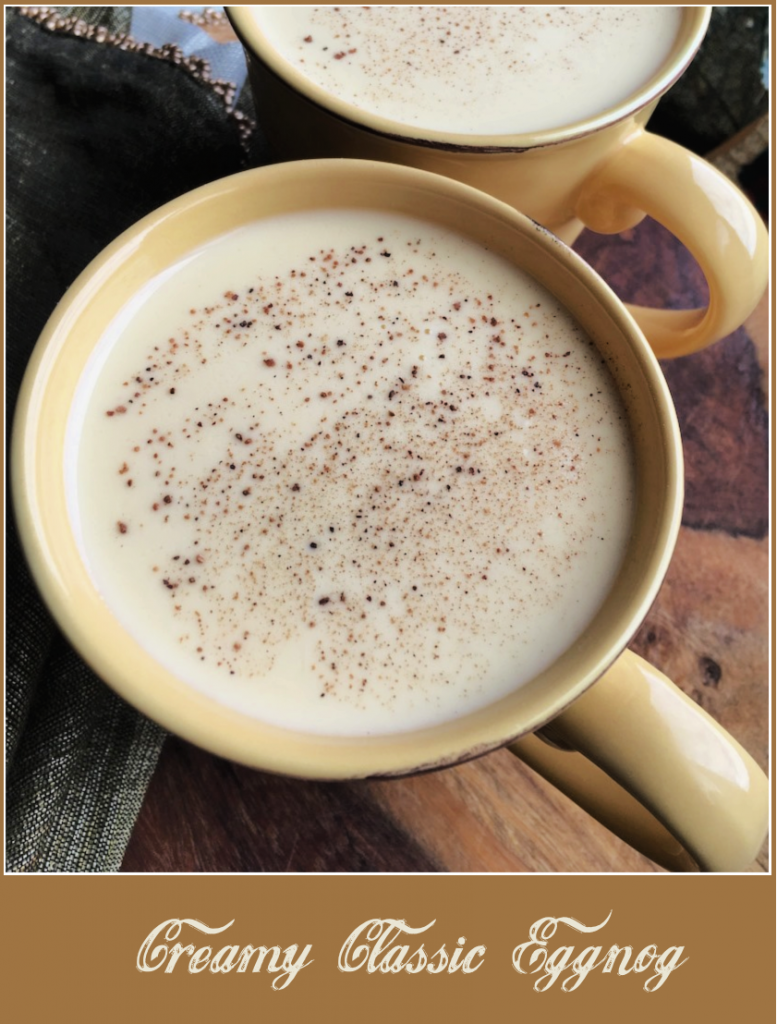 Holidays are made special for several reasons.  One reason is that we add a little "extra something" to our lives.  Food that is prepared just for that meal as in Thanksgiving.  Or food that is prepared for the entire holiday season.  Eggnog is so easy to make that it could be easily available all year around.  But then it wouldn't be special!
Eggnog has been around for centuries. Milk, eggs and spices were mainly available to landowners.  Only they had the resources to keep cows and chickens and to buy imported spices.  Monks recorded the first recipes, and wealthy landowners were quick to adopt the habit of toasting one another's good health and continued prosperity with the unique drink served in small wooden cups called noggins.  Upstart English colonials brought livestock with them to their newly acquired lands in the vast New World and were quick to add cheap rum. Colonials made "grog", a name given to any thick drink, especially during the wintry season when calorie dense foods helped people withstand the cold.   George Washington recorded his own recipe, including  rum, more expensive sherry, whiskey and brandy to equal one quart plus of alcohol, a quart each of milk and cream, 12 tablespoons of sugar (3/4 cup) and an unspecified number of eggs.  One can see where his interests were!  Or maybe chickens were scarce that year.
If you love the rich, creamy taste of classic eggnog, but don't like the idea of using raw eggs, this recipe is for you. You can use any kind of milk for the whole milk, including almond or low carb.  For an adults-only version, add some rum, bourbon, or cognac to taste.  Or not.  Guaranteed to be a Holiday special, with or without!

Creamy Classic Eggnog
If you love the rich, creamy taste of classic eggnog, but don't want to use raw eggs, this recipe is for you. For adults-only, add rum, bourbon, or cognac to taste.
Author:
A Pinch of Joy by Charlene Vance
Recipe type:
Quick and Easy Holiday
Ingredients
12 eggs
1 ¼ cups sugar
4 cups whole milk
2 teaspoons vanilla extract
1 teaspoon ground nutmeg
2 cups evaporated milk
2 cups half and half
Instructions
Combine eggs and sugar in a medium bowl. Whisk until thoroughly combined and color is even.
Pour whole milk in medium saucepan. Add vanilla, nutmeg and egg mixture. Whisk lightly to combine.
In a separate bowl, mix evaporated milk with half and half until combined.
Heat egg mixture in saucepan over medium-low heat. Stir constantly to prevent milk scorching. When mixture reaches 160 degrees on a candy thermometer, remove from heat and slowly whisk in evaporated milk mixture.
Add more sugar or nutmeg, if desired, before transferring to an airtight container. Refrigerate overnight or until thoroughly chilled.
Serve in mugs and garnish with whipped cream, cinnamon sticks, or a dash of nutmeg. Splashes of rum, bourbon or cognac optional
Notes
Ntritional values are estimates and may vary
Nutrition Information
Serving size:
8 ounces
Calories:
252 |
Carbohydrates:
34 grams|
Protein:
12 grams |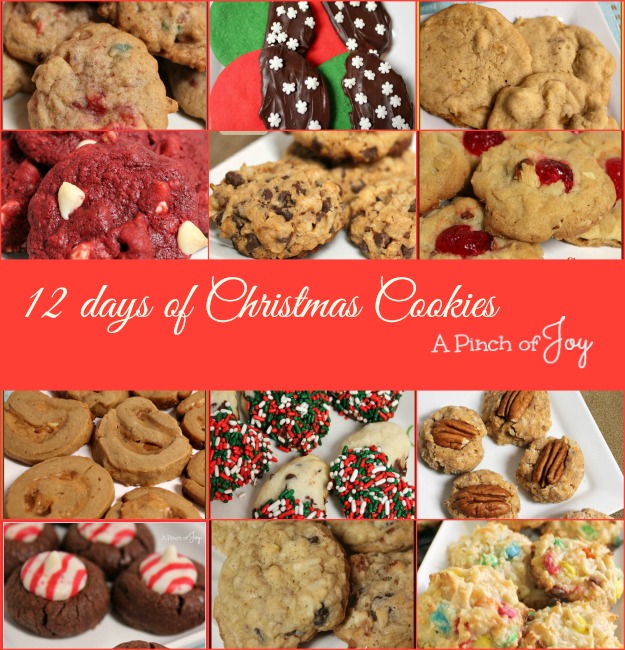 If you want cookies check these out —
1.
Fruitcake cookies
2.
Almond Coconut Crunch Cookies
3.
Pineapple Walnut Cookies
4.
Maple Caramel Swirl Cookies
5.
Peppermint Chocolate Thumbprints
6.
Cherry Almond Chews
7.
Polka Dot Macaroons
8.
Red Velvet Cookies with white chocolate and walnuts
9.
Butterscotch Pecan Softies
10.
Toffee Crisps
11.
Crescent Mini Chip Cookies
12.
Minty Christmas Cookies
Gifts in a Jar and free printables: Savory Chicken Noodle Soup Mix Hot Chocolate Mix Chocolate Andes Mint Cookies Apple Butter Crumb Cake Mix Potato Soup Mix Hot Chocolate Mix Toffee Blondies Mix Chocolate Andes Mint Cookie Mix Chai Tea Mix Chocolate Chip Snickerdoole Pancake Mix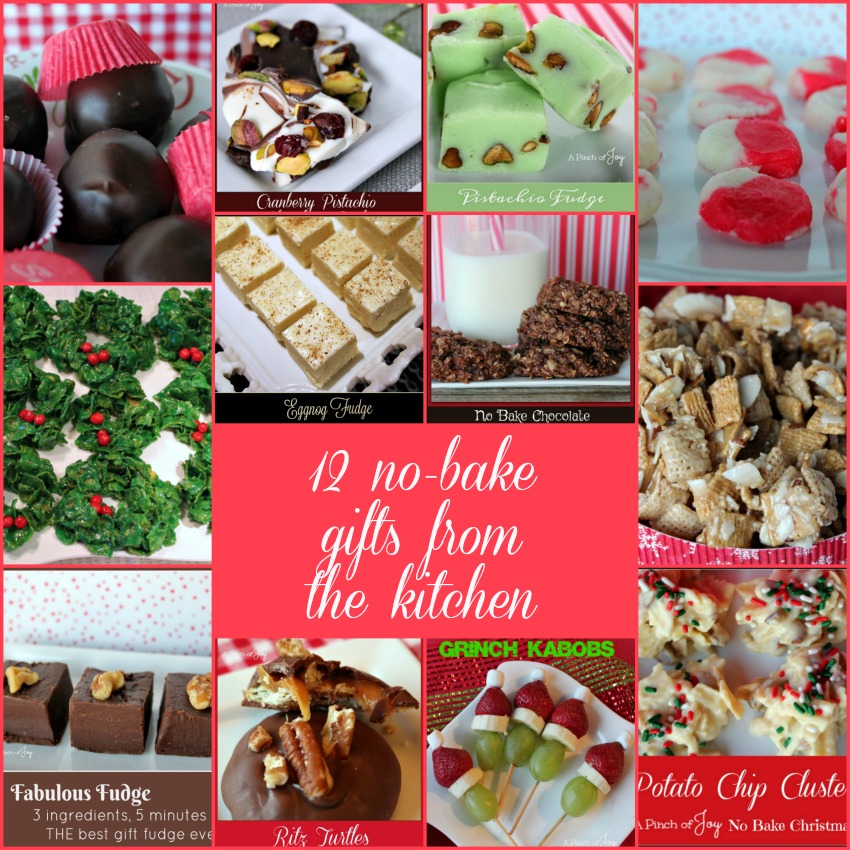 For no-bake recipes in a 12 Days of Christmas series: Christmas Wreath Potato Chip Clusters Cherry Mash Bars Pistachio Fudge Cinnamon Swirl Cream Cheese Mints Classic Oreo Truffles Cranberry Pistachio Chocolate Bark Ritz Turtles Gooey Golden Chex Mix Fabulous Fudge No-Bake Chocolate Cookies
no bake and no stress treats in small batches. For when you want to have a variety of treats without a lot of leftovers.
A Dozen Awesome Appetizer and Delicious Dips from a Pinch of Joy
Bonus!!
Super Delicious Big Batch Cookies A unique, crispy shortbread type cookie textured with oatmeal, coconut and chocolate chips.
Macaroons and Chocolate — Chewy Coconut macaroons dipped in smooth chocolate
Peanut Butter Chocolate Bars — tastes just like the peanut butter cups in the bright orange wrapper
Welcome to A Pinch of Joy! I'm so glad you stopped by today! Follow A Pinch of Joy using the icons on the teal bar at the top of the page so you don't miss a thing! I'd love to have your company on this venture!! Share: if you found this helpful or inspiring please click one of the buttons below! Your support of A Pinch of Joy is appreciated!
Shared with these awesome link parties here
Save
Save