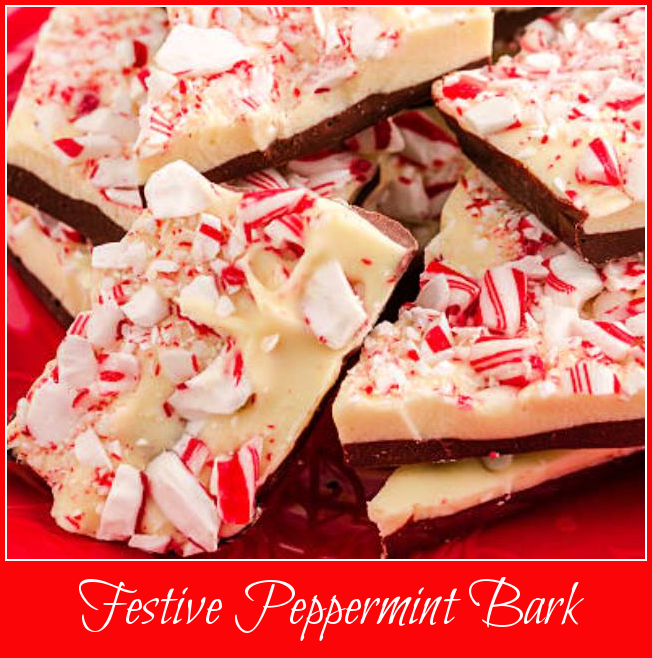 Peppermint bark is a seasonal favorite everyone loves!  This super easy recipe assembles quickly and looks spectacular with little effort.
The secret to outstanding peppermint bark is in the quality of chocolate. You can pick and choose – if your crowd is mainly teens who eat quickly and move on, use the easiest available chocolate such as almond bark or melting wafers.  If you are gifting pepper mint bark or serving it to, say, your boss and co-workers, anyone who will savor and appreciate the creamy texture and holiday flavors, choose a higher quality.   If you prefer, you can use all dark, semi-sweet or all white chocolate for this recipe.

Festive Peppermint Bark
Crushed peppermint chunks and smooth, creamy layered chocolate -- a classic holiday treat that is quick and easy to make and looks spectacular!
Author:
A Pinch of Joy by Charlene Vance
Recipe type:
Holiday Treat
Ingredients
16 ounces good quality dark or semi-sweet chocolate, in small pieces
16 ounces good quality white chocolate, in small pieces
¾ cup finely crushed peppermint candy
½ cup coarsely broken and crushed peppermint candy
Instructions
If you cannot find crushed peppermint, place any peppermint candy (canes, sticks, rounds) in a heavy-duty freezer bag and cover with a towel. Pound bag with a meat mallet or rolling pin until finely crushed. Set aside. OR use a food processor, if available. For topping pieces, break into different sizes to make approximately one half cup and set aside
Line a small, rimmed baking sheet or 9x 13 pan with parchment paper. Dampen the bottom of the outer edges of the parchment paper with fingers dipped in water to hold it in place.
In a double broiler, melt the dark chocolate until smooth, stirring frequently. OR melt chocolate in microwave according to package directions. When melted and stirred smooth, pour onto parchment paper and spread with a spatula to a uniform thickness. Slip pan into refrigerator or freezer, keeping it flat, to hasten hardening.
If using the same double boiler, thoroughly clean before melting white chocolate. Once white chocolate is melted and smooth, stir in crushed peppermint pieces until evenly distributed. Pour the white chocolate mixture on top of the somewhat firm dark chocolate layer. Spread until evenly distributed over the dark (or semi-sweet) chocolate layer. Add additional bits of candy broken into bits of different sizes to the top layer, pressing the larger pieces slightly into the white chocolate.
Place baking sheet in the refrigerator for up to 2 hours. Once hardened, gently break peppermint bark into pieces, starting at one corner. Or for a more polished look, slice with sharp knife into squares. Candy will keep in airtight container for up to two weeks.
Notes
Nutritional values are estimates and may vary
Nutrition Information
Calories:
129 |
Carbohydrates:
16 grams |
Protein:
1 gram |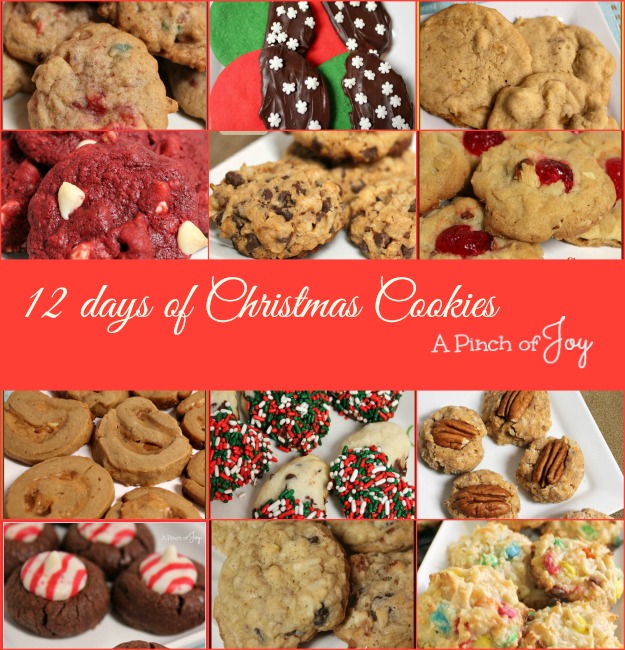 If you want cookies check these out —
1.
Fruitcake cookies
2.
Almond Coconut Crunch Cookies
3.
Pineapple Walnut Cookies
4.
Maple Caramel Swirl Cookies
5.
Peppermint Chocolate Thumbprints
6.
Cherry Almond Chews
7.
Polka Dot Macaroons
8.
Red Velvet Cookies with white chocolate and walnuts
9.
Butterscotch Pecan Softies
10.
Toffee Crisps
11.
Crescent Mini Chip Cookies
12.
Minty Christmas Cookies
Gifts in a Jar and free printables: Savory Chicken Noodle Soup Mix Hot Chocolate Mix Chocolate Andes Mint Cookies Apple Butter Crumb Cake Mix Potato Soup Mix Hot Chocolate Mix Toffee Blondies Mix Chocolate Andes Mint Cookie Mix Chai Tea Mix Chocolate Chip Snickerdoole Pancake Mix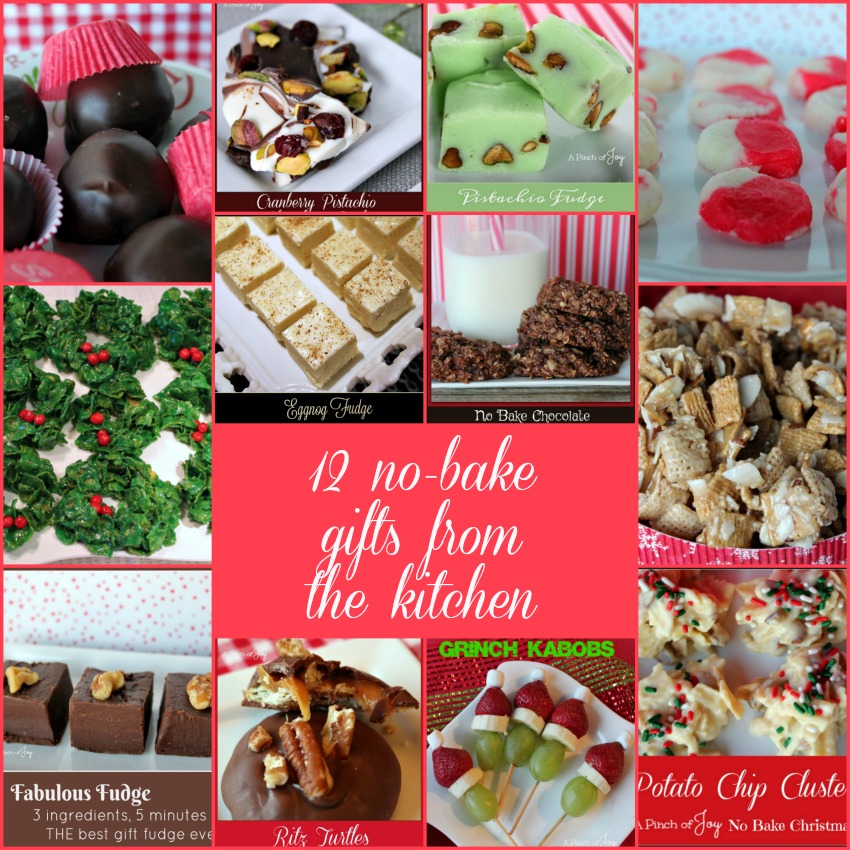 For no-bake recipes in a 12 Days of Christmas series: Christmas Wreath Potato Chip Clusters Cherry Mash Bars Pistachio Fudge Cinnamon Swirl Cream Cheese Mints Classic Oreo Truffles Cranberry Pistachio Chocolate Bark Ritz Turtles Gooey Golden Chex Mix Fabulous Fudge No-Bake Chocolate Cookies
no bake and no stress treats in small batches. For when you want to have a variety of treats without a lot of leftovers.
A Dozen Awesome Appetizer and Delicious Dips from a Pinch of Joy
Bonus!!
Super Delicious Big Batch Cookies A unique, crispy shortbread type cookie textured with oatmeal, coconut and chocolate chips.
Macaroons and Chocolate — Chewy Coconut macaroons dipped in smooth chocolate
Peanut Butter Chocolate Bars — tastes just like the peanut butter cups in the bright orange wrapper
Welcome to A Pinch of Joy! I'm so glad you stopped by today! Follow A Pinch of Joy using the icons on the teal bar at the top of the page so you don't miss a thing! I'd love to have your company on this venture!! Share: if you found this helpful or inspiring please click one of the buttons below! Your support of A Pinch of Joy is appreciated!
Shared with these awesome link parties here