Celebrations add richness and depth to our lives.  They are a time to connect with others in our family and beyond.  They call to mind our collective history in ways that can be adapted to the individual.  The first time I heard of lasagna for Thanksgiving dinner I was surprised!  But it is a perfect illustration of the dynamic nature of celebrations!  They change to fit the situation and times in a way that is significant to the persons celebrating and, in the process, strengthen the bond of family and friends. 
I love to look at beautiful holiday tablescapes and gorgeous seasonal layered vignettes. I love to create them.  But sometimes the weather does not cooperate nor is there time or energy for such things.  Still celebration calls for something out of the ordinary.  So . . .   make the celebration special but focus on creating a warm welcome and good food.  Celebrate simply.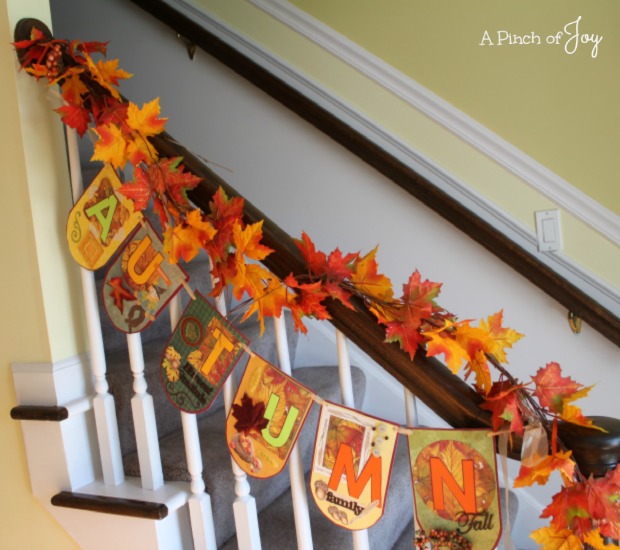 The welcome begins at the front door entry with an Autumn Banner.   Decorating note and totally off subject: All the woodwork in the house was stained a super dark Seventies color when we moved in.  I painted it white – eventually — and left the handrails dark for a bit of contrast.  Wheels suggested when I painted the stairs that I leave the edges dark.  I figured okay — we can always paint them white when we see how silly THAT looks!  🙂  But we liked it and many visitors comment how much they like that little touch.  Ya never know!  The bottom of the stair wall was painted white and the trim added when we did the dining room.  The light yellow is a soft butter color IRL and is the neutral for the downstairs hall.  The darker, almost gold color, is the upper hallway.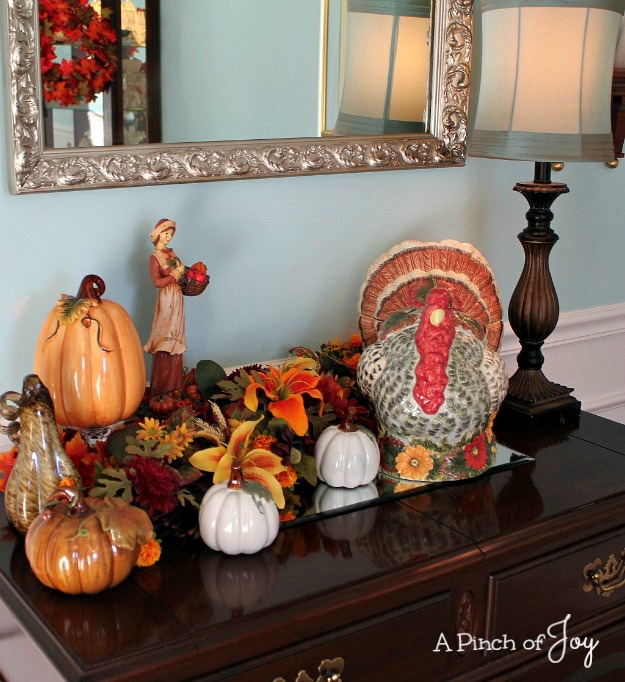 The buffet needed a little festive color so a quick gathering of ceramic pumpkins from here and there, the turkey turreen that usually sets on the kitchen counter and a few fall colored  flowers.  This took five minutes and will be disassembled the next day, but it is a nice splash of color.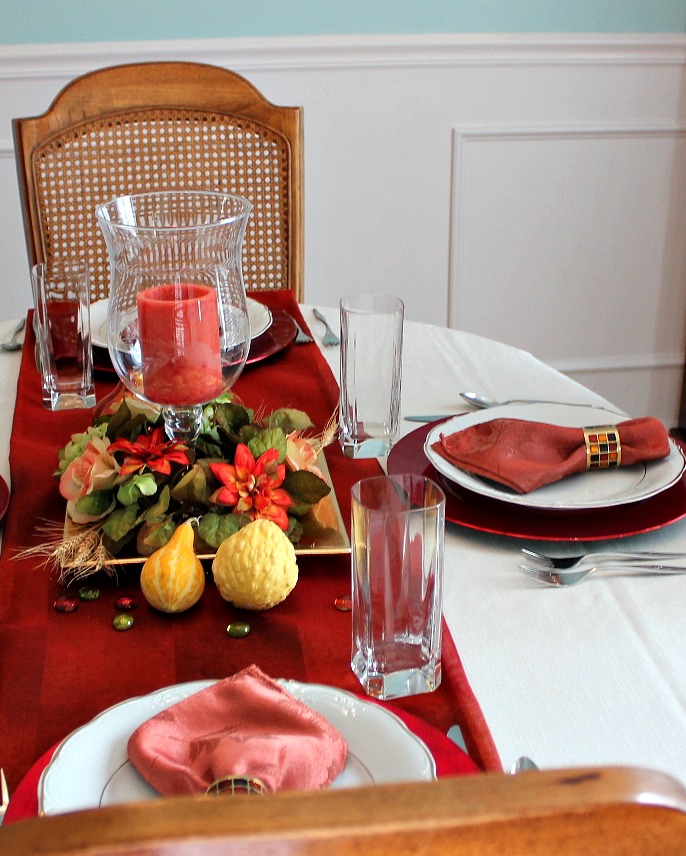 The table runner is a piece of fabric the length of the tablecoth and folded in thirds.  The centerpiece is a gold square plate with a glass hurricane from the living room, a flameless candle, more flowers, a couple of little gourds.  See the wheat?   That is a family tradition.  Wheel's father gave me a handful from his wheat field one year and they have made their appearance on our Thanksgiving table ever since.  Those few stalks represent family, the importance of agriculture and amber waves of grain, the historical movement of pioneers ever westward looking for good land with bright hopes for the future and so much more.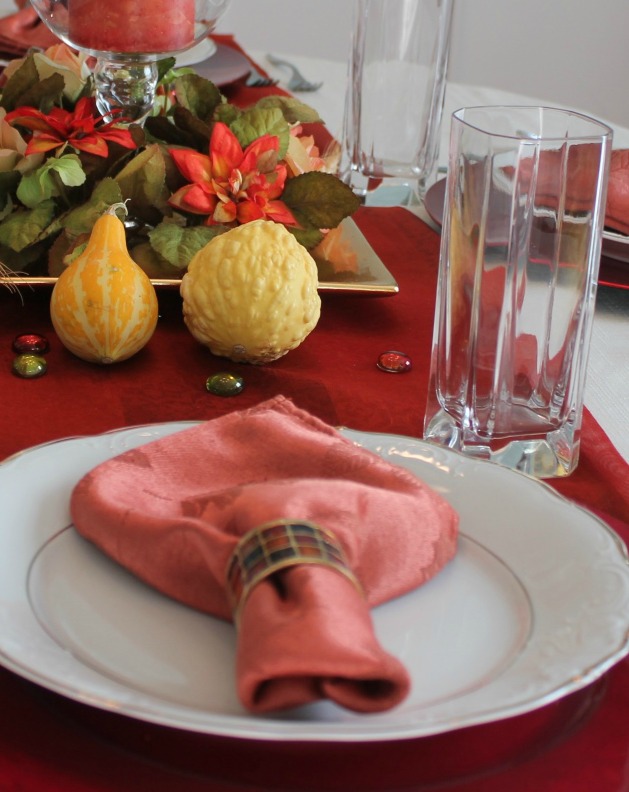 The charger under the plate just happened to match the dark stripe of the fabric and the napkin matched the light stripe!  How's that for lucky coincidence?!  Napkin rings were on clearance one year at Kroger's for maybe a quarter each after the holidays.  And the colors in them blended beautifully.  Buy only what you truly like and it's amazing how things will go together!  Not always but often enough. . .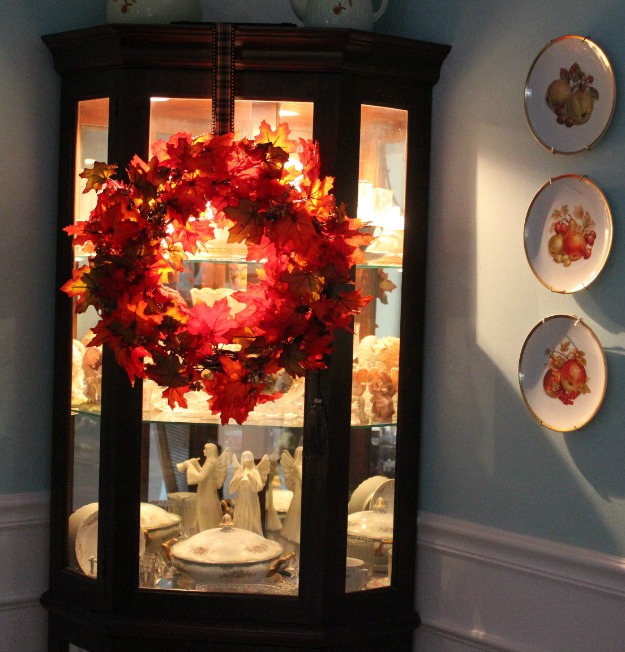 A fall wreath hung on the lighted corner cabinet is another quick and colorful touch to make the day out of the ordinary!
                               Wishing you and yours
           a bright and special Thanksgiving celebration! 
Some dishes you might like to consider for the Thanksgiving Feast: 
Orange Glazed Cornish hens  OR  Elegant Crusted Pork Tenderloin  
Holiday Sweet Potatoes 
Potato Nests                  OR    Scottsdale Potatoes
Sesame Green Beans    OR      Bacon Pecan  Green Beans
Sunny Broccoli Salad     OR      Wicked Good Simple Sweet Slaw    OR Cauliflower Bacon Salad
Fruity Cranberry Relish  OR     Frozen Cranberry Salad
Caramel Apple Salad     OR      Snickers Surprise Salad
Honey Banana Bread    OR     Lemon Poppyseed Zucchini Bread    OR Spicy Pumpkin Bread
Cheesecake Bars           OR      Pumpkin Bars
Blushing Peach Pie         OR     Spiced Pineapple Carrot Cake
I'm so glad you stopped by today!   Be sure to follow A Pinch of Joy so you don't miss a thing! 
Subscribe by email  on the sidebar  or follow on Facebook, RSS feed, bloglovin'  twitter  and check out my  pinterest boards.   If you found this helpful or inspiring please share below!  Your support of A Pinch of Joy is  appreciated!