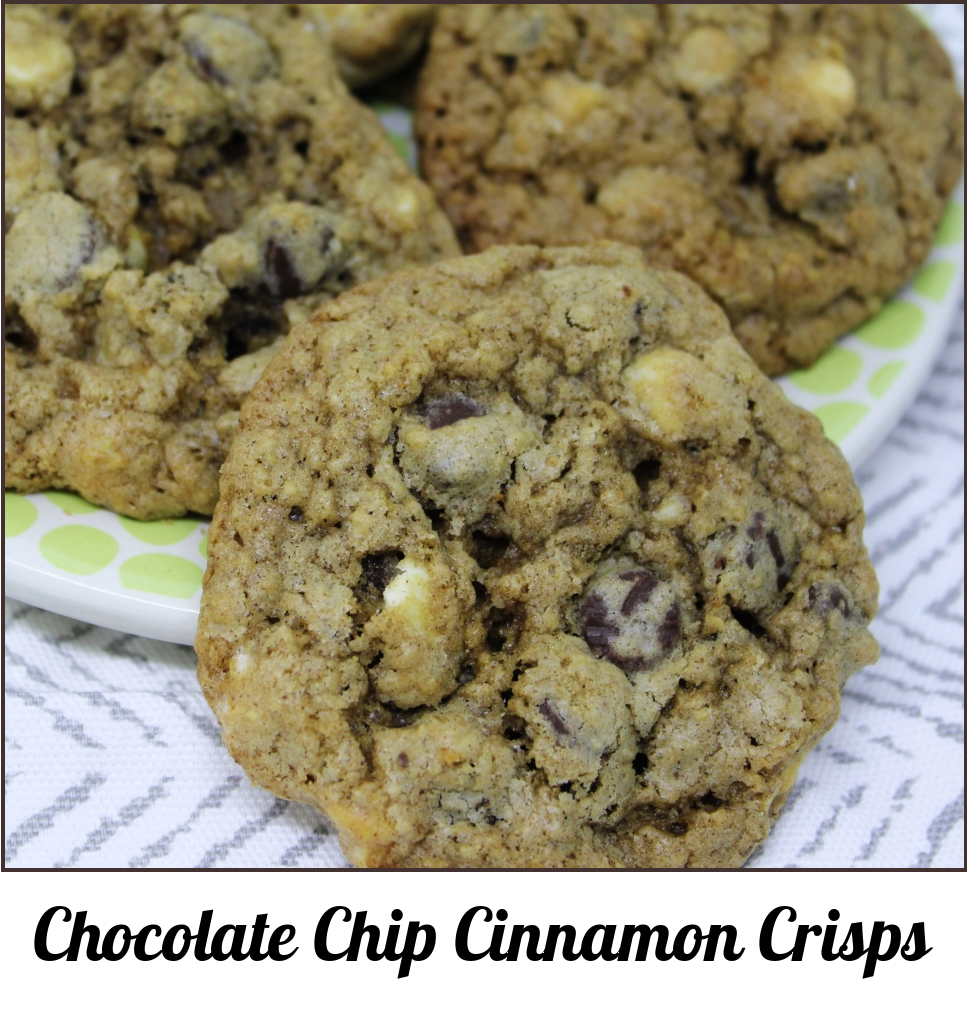 Chocolate Chip Cinnamon Crisps are quick, easy and quite straightforward to make.  You'll be glad you made these!
Tips for less experienced bakers:  Let the butter soften until room temperature by letting it set on the counter for 30-60 minutes ahead of time. Cutting the stick of butter into slices will help it warm faster.  OR do the microwave cheat, put in the microwave at 50% power for 15-20 seconds.  Room temperature butter will almost "take your fingerprint" when pressed with an index finger. The butter will still be firm enough to resist your touch, but soft enough to leave the imprint of your finger.  If you press and your finger actually sinks into the butter – too soft.
Be sure to pack the brown sugar – that is, press it tightly into the half cup measure until it is level with the top.  Yes, you can lightly grease or spray  the baking sheet if you want.  Parchment paper will slightly absorb the grease from the cookies and keep them from spreading and becoming too thin.  And it reduces clean up.
Cookies are done with they have puffed a bit and lost the raw, shiny look and are golden around the edges. After removing cookies from the oven, let them set on the baking sheet to firm up and finish cooking internally, before removing to a cooling rack. I usually poke them with a finger to see if they are firm enough to move. Don't wait longer than two or three minutes or the cookies will overbake!

Chocolate Chip Cinnamon Crisps
Crispy oatmeal cookies made special with two kinds of chocolate chips. Quick, easy and delicious!
Author:
A Pinch of Joy by Charlene Vance
Ingredients
¼ cup granulated sugar
½ cup brown sugar, packed
1 egg, beaten
2 teaspoons vanilla extract
¾ cup all purpose flour
¾ teaspoon baking powder
¾ teaspoon baking soda
1 teaspoon ground cinnamon
1 cup old fashioned rolled oats
1 cup semi sweet chocolate chips
1 cup white chocolate chips
Instructions
Preheat oven to 350 degrees
Line baking sheets with parchment paper.
Using mixer on medium speed OR by hand, cream butter , brown sugar and granulated sugar until smooth, light colored and fluffy.
Add egg and vanilla. Beat until creamy
In a separate bowl, mix together flour, oatmeal, baking powder, baking soda and cinnamon. Add dry ingredients to wet in mixing bowl. Stir until combined.
Add chocolate chips, stirring to evenly distribute chips.
Scoop dough onto lined baking sheet. Use a cookie scoop OR a tablespoon to make walnut sized mounds of cookie dough about two inches apart.
Bake for 11-14 minutes or until lightly browned.
Cool on sheet for 5 minutes, then remove to cooling rack.
Nutrition Information
Serving size:
1 cookie
Calories:
173,
Carbohydrates:
22 grams,
Protein:
2 grams
Check out these holiday collections!
12 Days of Christmas Cookies:    Fruitcake cookies   Almond Coconut Crunch Cookies      Pineapple Walnut Cookies       Maple Caramel Swirl Cookies           Peppermint Chocolate Thumbprints         Cherry Almond Chews        Polka Dot Macaroons         Red Velvet Cookies with white chocolate and walnuts       Butterscotch Pecan Softies – no bake        Toffee Crisps       Crescent Mini Chip Cookies    Minty Christmas Cookies 
12 No Bake Gifts from the Kitchen:    Christmas Wreath        Cherry Mash Bars   Potato Chip Clusters    Pistachio Fudge      Cinnamon Swirl Cream Cheese Mints      Classic Oreo Truffles   Cranberry Pistachio Chocolate Bark    Ritz Turtles   Gooey Golden Chex Mix     Fabulous Fudge     No-Bake Chocolate Cookies    Eggnog Fudge
12 Awesome Appetizers and Delicious Dips:  Cheesy Chicken Enchildada Dip     Cheese and Spinach Stuffed Mushrooms   Cinnamon Apple Baked Brie    Pineapple Bacon Bites     Ham and Cheese Pinwheels   Hot Roast Beef Party Sandwiches Thin Crust Fresh Veggie Pizza     Bacon Onion Cheese Spread   Tuna Spread   Warm and Cheesy Bacon Dip   Reuben Dip
Gifts in a Jar with free printables:   Savory Chicken Noodle Soup Mix       Hot Chocolate Mix        Chocolate Andes Mint Cookies       Apple Butter Crumb Cake Mix     Potato Soup Mix  Hot Chocolate Mix         Toffee Blondies Mix     Chocolate Andes Mint Cookie Mix   Chai Tea Mix  Chocolate Chip Snickerdoodle Pancake Mix
I'm so glad you stopped by today!   Follow A Pinch of Joy using the icons on the teal bar at the top of the page so you don't miss a thing!   I'd love to have your company on this venture!!  Share: if you found this helpful or inspiring please click one of the buttons below!  Your support of A Pinch of Joy is appreciated!
Shared with these awesome link parties here