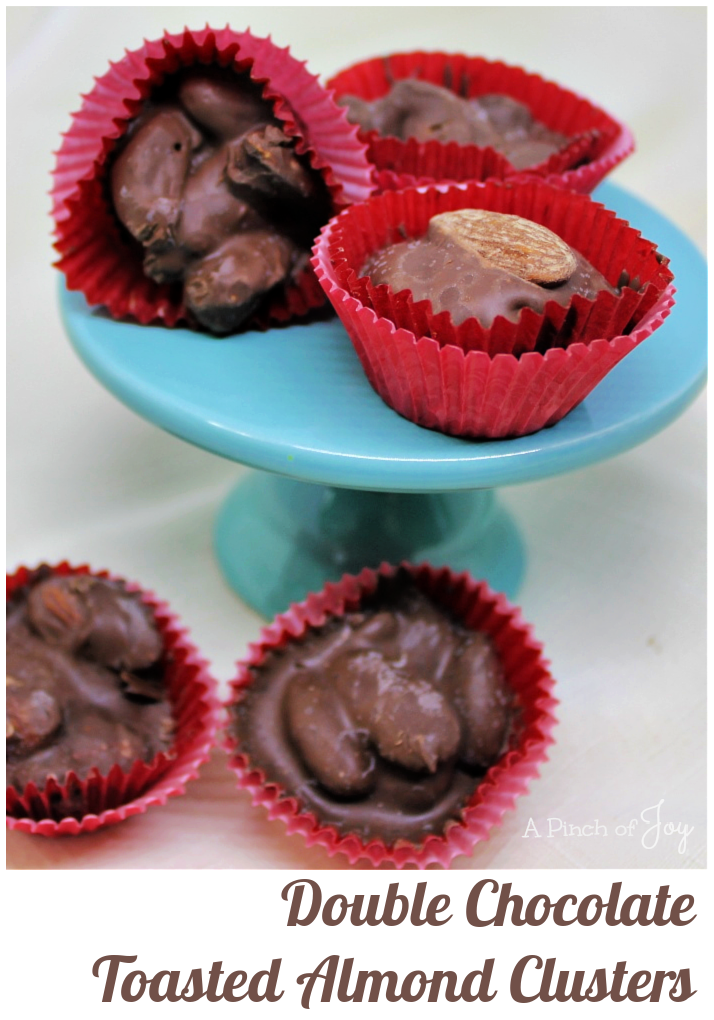 Double Chocolate Toasted Almond Clusters are so very easy to make and yet look super elegant and gift worthy!  Toasting the almonds takes a little extra time and effort, but so worth it for the extra flavor and crunch.  Toast them ahead of time, if you want, while baking dinner one night or another batch of goodies. Only ten minutes in a 350 degree oven makes a big difference.
When adding white melting chocolate to slow cooker, break into pieces at the score.  Or some brands come in little "cubes" in individual cups.  Easier to melt than a big chunk.  Baker's German Chocolate is a sweet baking chocolate – also scored to break into easy to melt chunks.  The chocolate chips add a different flavor to the mix.  I have also used dark chocolate chips–but I like dark chocolate.  Use the low setting on your slow cooker.  Your mileage may vary – it took just a little over an hour to melt and mix the chocolate and I stirred about every 15 minutes.  You can drop the almond chocolate mixture onto parchment paper with a cookie scoop or a tablespoon for large clusters.  We like the smaller clusters (about a teaspoon and a half) dropped into candy cups.  Just the right size for a sweet bite – and the paper keeps your fingers clean!  Great gift any time of year!

Double Chocolate Toasted Almond Clusters
Toasted Almond Clusters are a sweet delight, combining different types of chocolate for the best candy! Make in your slow cooker -- super easy!
Author:
A Pinch of Joy by Charlene Vance
Ingredients
16 ounces lightly salted or plain roasted almonds
1 lbs White Melting Chocolate (White Almond Bark or Candy Coating)
4 oz Bakers's German Chocolate (or similar sweet chocolate)
1 ½ cups Semi Sweet Chocolate Chips
Instructions
Line 3 baking sheets with parchment paper.
Spread almonds on cookie sheet. Do not pile almonds on top of each other. Bake at 350 for ten minutes. Remove from oven and cool while chocolate is melting. This step can also be done a day or more ahead of time.
In a 5 qt or larger slow cooker, add the white melting chocolate, sweet baking chocolate, and semi sweet chocolate chips. Put the lid on and set to LOW, checking at sides and bottom occasionally to make sure chocolate is not overheating.
As chocolates become soft and melted, stir to combine them.
Add almonds to the crock pot and stir them in well.
Use cookie scoop (OR ateaspoon OR tablespoon), depending on how large you want your peanut clusters, to scoop mounds onto the parchment paper or into paper cups.
The candies will take about an hour or more to set enough to handle and longer to become firm. Transfer to an air tight container.
Notes
Nutritional values will vary according to brand of ingredient and the size of the finished candy.
Nutrition Information
Serving size:
1 candy
Calories:
125,
Carbohydrates:
11 carbs,
Protein:
2 grams,
CHECK OUT THESE COLLECTIONS OF SWEET TREATS! 
12 Days of Christmas Cookies:    Fruitcake cookies   Almond Coconut Crunch Cookies      Pineapple Walnut Cookies       Maple Caramel Swirl Cookies           Peppermint Chocolate Thumbprints         Cherry Almond Chews        Polka Dot Macaroons         Red Velvet Cookies with white chocolate and walnuts       Butterscotch Pecan Softies – no bake        Toffee Crisps       Crescent Mini Chip Cookies    Minty Christmas Cookies 
12 No Bake Gifts from the Kitchen:    Christmas Wreath        Cherry Mash Bars   Potato Chip Clusters    Pistachio Fudge      Cinnamon Swirl Cream Cheese Mints      Classic Oreo Truffles   Cranberry Pistachio Chocolate Bark    Ritz Turtles   Gooey Golden Chex Mix     Fabulous Fudge     No-Bake Chocolate Cookies    Eggnog Fudge
12 Awesome Appetizers and Delicious Dips:  Cheesy Chicken Enchildada Dip     Cheese and Spinach Stuffed Mushrooms   Cinnamon Apple Baked Brie    Pineapple Bacon Bites     Ham and Cheese Pinwheels   Hot Roast Beef Party Sandwiches Thin Crust Fresh Veggie Pizza     Bacon Onion Cheese Spread   Tuna Spread   Warm and Cheesy Bacon Dip   Reuben Dip
Gifts in a Jar with free printables:   Savory Chicken Noodle Soup Mix       Hot Chocolate Mix        Chocolate Andes Mint Cookies       Apple Butter Crumb Cake Mix     Potato Soup Mix  Hot Chocolate Mix         Toffee Blondies Mix     Chocolate Andes Mint Cookie Mix   Chai Tea Mix  Chocolate Chip Snickerdoodle Pancake Mix
I'm so glad you stopped by today!   Follow A Pinch of Joy using the icons on the teal bar at the top of the page so you don't miss a thing!   I'd love to have your company on this venture!!  Share: if you found this helpful or inspiring please click one of the buttons below!  Your support of A Pinch of Joy is appreciated!
Shared with these awesome link parties here