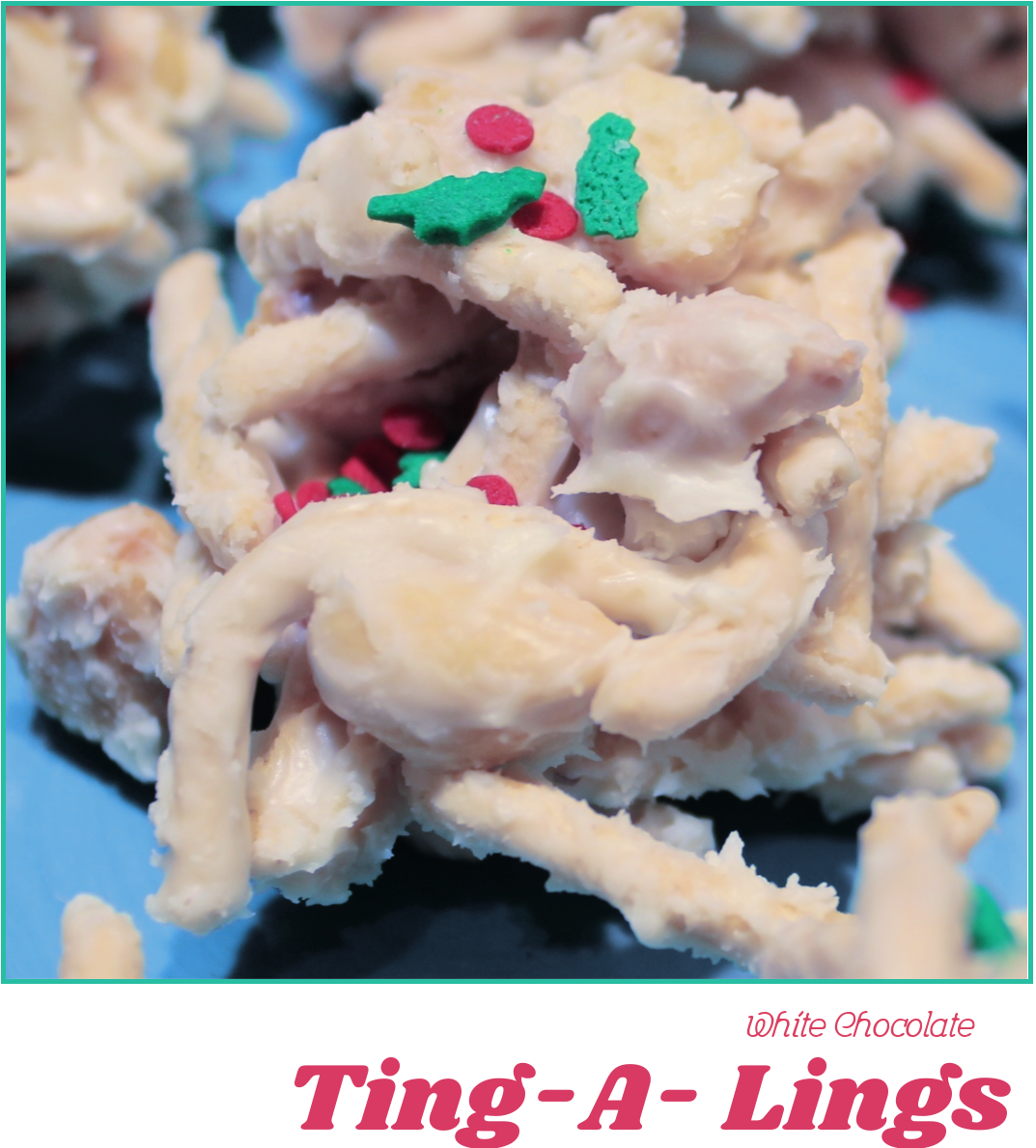 When I ran across Ting A Lings, the name caught my attention with visions of
swirly skirts,
pillbox hats and pearls, straight from a Fifties movie.  I knew this would have to be a part of this year's Christmas Treats.  I did a little research and, sure enough, Ting A  Lings were a Fifties thing.  Originally, Wheaties provided the crunch stirred into melted chocolate.  Someone replaced the cereal with crunchy chow mein noodles and Ting A Lings would never be the same.  Numerous variations have been shared, but the enchanting name remains.  Quick to make, topped with colorful sprinkles and with their unique taste and crunchy texture,  they add charm to any  collection of Christmas treats.
This recipe could be called 1-2-3 Ting A Lings.  1 cup nuts, 2 cups white chocolate and 3 cups chow mein noodles.    The ratio can be varied, however.     If you want you can increase the chocolate to an amount equal to the cups of chow mein noodles.  If you package Ting A Lings on their own, I would certainly do that because they are more sumptious looking that way!  White chocolate chips can be used instead of wafers or  almond bark.  You can also use chocolate or dark chocolate coating.  Vary the nuts to what you have available.  Salted peanuts add contrast to the sweet chocolate, but you can also use cashews (yummy), chopped almonds, mixed nuts.  If you want to add dried fruit, reduce the nut measure by the same amount of the dried fruit you add.   The possibilities are endless.  Top with your choice of candy sprinkles.
Oh yes, you will  see this recipe with the name Haystacks.  Sorry, that name is reserved only for a mixture of butterscotch and/or chocolate chips and just chow mein noodles — no nuts or sprinkles.  They look like  — you know, unkempt haystacks.
White Chocolate Ting A Lings
Quick and easy to make, topped with cheery sprinkles, the unique taste and crunchy noodle texture of these classic Christmas treats makes a great addition to any collection of Christmas treats.
Author:
A Pinch of Joy by Charlene Vance
Recipe type:
Classic Christmas Candy
Ingredients
3 cups chow mein noodles
2 cups (12 ounces) white chocolate candy melts (or equivalent almond bark or chocolate chips)
½ to 1 cup of salted peanuts (or any other nut you like)
Instructions
Mix chow mein noodles and nuts in large bowl.
Spread parchment or waxed paper on counter OR large cookie sheet.
Melt chocolate according to package directions. When melted pour over noodle and nut mixture, stirring gently but thoroughly.
Drop by tablespoonfuls onto waxed paper, top quickly with candy sprinkles.
Cool completely before handling. Store at room temperature.
Notes
Nutritional values are estimates and may change with brand or type purchased.
Nutrition Information
Serving size:
1 piece
Calories:
146 |
Carbohydrates:
15 gr |
Protein:
3 gr |