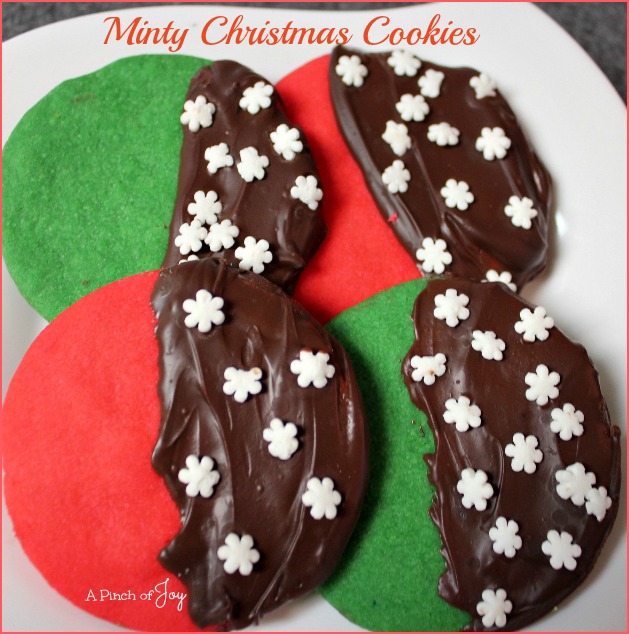 Minty Christmas Cookies are fun! Fun colors, fun and easy to make and decorate, fun to make with littles.  Best of all, they are fun to eat!   Use the paste colors because they give deeper color without adding extra liquid. It's no secret that I am not good at dipping things in chocolate! (Remember?  How not to make peppermint patties and Chocolate covered Cheeseballs) I frosted half of each cookie with the melted chocolate instead of dipping. Requires less chocolate – saves $ and lowers the carb count a tiny bit and is a whole lot easier! Melt about half the given amount  if you do this.  Have fun! 

Minty Christmas Cookies
Author:
A Pinch of Joy by Charlene Vance
Ingredients
1 cup butter, softened
½ cup sugar
1 teaspoon peppermint extract
1 tsp vanilla extrace
2 ¼ cups flour
Red and green paste food coloring
1 cup chocolate candy coating, semisweet, dark OR mint
Topping options: ¾ cup crushed peppermint candies, crème de menthe chips, chopped nuts, sprinkles
Instructions
Cream butter and sugar until light and fluffy. Add extracts and gradually beat in flour.
Divide dough in half.
Tint one portion red and the portion green. Wrap each in plastic wrap and refrigerate at least 2 hours or until easy to handle.
Preheat oven to 350.
On a lightly floured surface, roll dough to ¼ inch thickness. Cut with 3 inch diameter round cookie cutter.
Place 1 inch apart on ungreased cookie sheets.
Bake 8-10 minutes or until firm and slightly golden on bottom.
Cool on pans for 1-2 minutes before removing to wire racks to cool completely.
Melt candy coating according to package directions.
Dip half of each cooled cookie into melted candy coating and place on waxed paper.
Sprinkle with toppings and let stand until firm
A dozen great cookie recipes —  check back daily to see the Cookie of the Day!
1.  Fruitcake cookies
2.  Almond Coconut Crunch Cookies
3.  Pineapple Walnut Cookies
4.  Maple Caramel Swirl Cookies
5.  Peppermint Chocolate Thumbprints
6.  Cherry Almond Chews
7.  Polka Dot Macaroons
8.  Red Velvet Cookies with white chocolate and walnuts
9.  Butterscotch Pecan Softies – no bake
10. Toffee Crisps
11. Crescent Mini Chip Cookies
12.  Minty Christmas Cookies
Bonus!!
Super Delicious Big Batch Cookies   A unique, crispy shortbread type cookie textured with oatmeal, coconut and chocolate chips.
Macaroons and Chocolate — Chewy Coconut macaroons dipped in smooth chocolate
Peanut Butter Chocolate Bars —  tastes just like the peanut butter cups in the bright orange wrapper
For more sweet recipes check the A Pinch of Joy Desserts and Sweets gallery.
I'm so glad you stopped by today!   Be sure to follow A Pinch of Joy so you don't miss a thing!  I'd love to have your company on this venture!!

Subscribe:  email  on the sidebar  or follow on Facebook /  RSS feed  / bloglovin' /   twitter  and check out my  pinterest boards.   Share: if you found this helpful or inspiring please click one of the buttons below!  Your support of A Pinch of Joy is appreciated
Save
Save

Related posts: