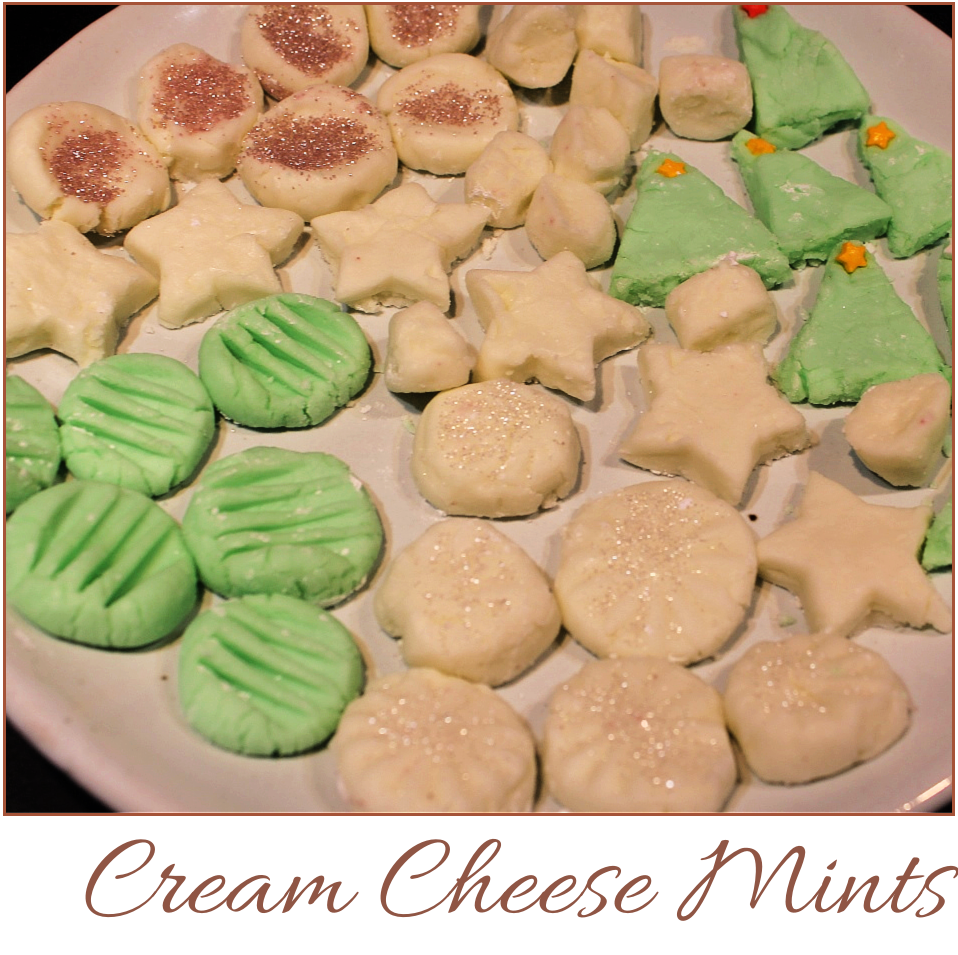 I made a batch of these and took them to Thanksgiving Dinner.  People descended on them, saying Oh my grandma used to make these and I loved them.  Straight from the Sixties and Seventies, folks.  Or Eighties.  Or Nineties.  Or the Aughts.  Guess that's what makes them a classic!
It is tempting to roll out the candy mixture and treat it like cookie dough.  Does not work well, as the small mints are difficult to handle and quickly become distorted beyond recognition.  I tried!  The stars and Christmas trees on the plate were the result.  Total result!  At least, that remained recognizable.  And they took as much time as the rest of the mints put together.  Your mileage may vary, but I found the roll and press method far more efficient and consistently better looking.  Leaving the mints overnight helps them firm up so you can handle them.  Leaving them longer gives an interesting new texture – dinner mint style.
We like the taste of white vanilla mints.  No other flavoring besides vanilla or color needed – just plain.  Add mint or other after the vanilla to enhance the overall flavor.  You can use peppermint, spearmint or just mint.  Green seems to be a good color for mint.    Experiment with your favorite flavor!

Cream Cheese Mints
A simple classic sweet, quick and easy to make by all ages, for any occasion
Author:
A Pinch of Joy by Charlene Vance
Ingredients
8 ounces cream cheese, softened
2 Tablespoons butter, softened
8 cups powdered sugar, plus
¼ teaspoon vanilla extract
1 teaspoons mint extract
Food coloring, if desired
Sprinkles, sanding sugar, etc., if desired
Instructions
Combine cream cheese and butter in large bowl and beat until combined and creamy.
With mixer on low speed, gradually add 4 cups of powdered sugar until incorporated.
Add flavorings.
Using mixer on low speed gradually add two more cups powdered sugar, scraping down sides and bottom of the bowl until well mixed.
Continue adding powdered sugar one half cup at a time until dough is stiff and not sticky. If dough is still sticky, add another half cup of powdered sugar. Stop when mixture is stiff and can be handled without making hands sticky. Consistency should be like play dough. Total amount of powdered sugar will be in the 7-8½ cup range.
Divide dough according to the number of colors and/or flavors you want to use for your mints.
Add desired food coloring and/or flavoring to each portion and mix well.
Scoop up a teaspoon sized portion of mixture and roll into ball. Place on parchment or waxed paper and press flat with thumb, fork or bottom of glass dipped in powdered sugar . This is the fastest method of making a large number mints. Another quick method is to roll a handful of mixture into a finger sized log, let dry slightly, then cut into half inch lengths – dinner mint style. This recipe can also be pressed into candy molds, according to mold directions, with good results.
Let mints dry, loosely covered, overnight.
Store, covered, in refrigerator. Can be frozen in air tight container for use later.
Notes
Nutritional values are an estimated and will vary according to ingredient and brands selected.
Nutrition Information
Calories:
34 |
Carbohydrates:
7 gr |
Check out these other holiday collections!
12 Days of Christmas Cookies:    Fruitcake cookies   Almond Coconut Crunch Cookies      Pineapple Walnut Cookies       Maple Caramel Swirl Cookies           Peppermint Chocolate Thumbprints         Cherry Almond Chews        Polka Dot Macaroons         Red Velvet Cookies with white chocolate and walnuts       Butterscotch Pecan Softies – no bake        Toffee Crisps       Crescent Mini Chip Cookies    Minty Christmas Cookies 
12 No Bake Gifts from the Kitchen:    Christmas Wreath        Cherry Mash Bars   Potato Chip Clusters    Pistachio Fudge      Cinnamon Swirl Cream Cheese Mints      Classic Oreo Truffles   Cranberry Pistachio Chocolate Bark    Ritz Turtles   Gooey Golden Chex Mix     Fabulous Fudge     No-Bake Chocolate Cookies    Eggnog Fudge
12 Awesome Appetizers and Delicious Dips:  Cheesy Chicken Enchildada Dip     Cheese and Spinach Stuffed Mushrooms   Cinnamon Apple Baked Brie    Pineapple Bacon Bites     Ham and Cheese Pinwheels   Hot Roast Beef Party Sandwiches Thin Crust Fresh Veggie Pizza     Bacon Onion Cheese Spread   Tuna Spread   Warm and Cheesy Bacon Dip   Reuben Dip And the bonus appetizer is:  Grinch Kabobs!
Gifts in a Jar with free printables:   Savory Chicken Noodle Soup Mix       Hot Chocolate Mix        Chocolate Andes Mint Cookies       Apple Butter Crumb Cake Mix     Potato Soup Mix  Hot Chocolate Mix         Toffee Blondies Mix     Chocolate Andes Mint Cookie Mix   Chai Tea Mix  Chocolate Chip Snickerdoodle Pancake Mix
I'm so glad you stopped by today!   Follow A Pinch of Joy so you don't miss a thing!   I'd love to have your company on this venture!!  Share: if you found this helpful or inspiring. Your support of A Pinch of Joy is appreciated!
Shared with these awesome link parties here