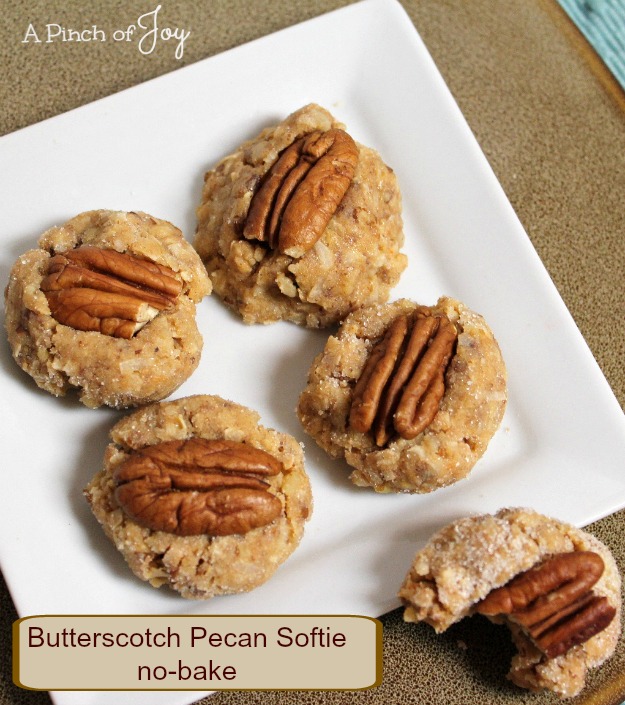 Butterscotch Pecan Softies are a nice change of pace. Not sweet, a nice mellow butterscotch flavor and an interesting texture. If you can, mix it up and let it chill overnight in the refrigerator. That lets the flavors meld and develop to a mellow butterscotch. Toasting the pecans deepens the flavor. Just be careful with multitasking while the pecans are toasting in a skillet. It doesn't take long and when they are ready, they are ready. No fooling around trying to finish some other little thing. Or you might find yourself scraping too much dark off a bunch of pecans. Yep, you got the picture – yours truly is the voice of experience 🙂

Butterscotch Pecan Softies -- no bake
Author:
A Pinch of Joy by Charlene Vance
Ingredients
1 ¾ cups pecans, toasted
1 can 14 ounces sweeted condensed milk
1 ½ cups finely shredded unsweetened coconut
1 package instant butterscotch pudding mix, sugar free
¼ cup sugar
48 pecan halves, toasted
Instructions
Lightly toast 1 ¾ cups pecans in ungreased skillet over medium heat, stirring frequently until fragrant.
Place pecans in food processor. Pulse until pecans are finely ground.
In bowl, stir together pecans, milk, coconut and pudding mix until blended.
Cover and refrigerate at least an hour or until firm enough to handle.
Shape mixture into one inch balls. Roll in sugar and set on waxed or parchment paper.
Top each piece with a pecan half, flattening cookies just slightly.
Store in airtight containers in the refrigerator.
12 Days of Christmas Cookies:   
Fruitcake cookies
Almond Coconut Crunch Cookies
Pineapple Walnut Cookies
Maple Caramel Swirl Cookies 
Peppermint Chocolate Thumbprints
Cherry Almond Chews
Polka Dot Macaroons
Red Velvet Cookies with white chocolate and walnuts
Butterscotch Pecan Softies – no bake
Toffee Crisps
Crescent Mini Chip Cookies
 Minty Christmas Cookies
12 Days of Christmas candy and no-bake recipes:     Christmas Wreath        Potato Chip Clusters    Cherry Mash Bars  Pistachio Fudge      Cinnamon Swirl Cream Cheese Mints      Classic Oreo Truffles  Cranberry Pistachio Chocolate Bark    Ritz Turtles   Gooey Golden Chex Mix     Fabulous Fudge     No-Bake Chocolate Cookies
Bonus!!
Super Delicious Big Batch Cookies   A unique, crispy shortbread type cookie textured with oatmeal, coconut and chocolate chips.
Macaroons and Chocolate — Chewy Coconut macaroons dipped in smooth chocolate
Peanut Butter Chocolate Bars —  tastes just like the peanut butter cups in the bright orange wrapper
For more sweet recipes check the A Pinch of Joy Desserts and Sweets gallery.
I'm so glad you stopped by today!   Be sure to follow A Pinch of Joy so you don't miss a thing!  I'd love to have your company on this venture!!

Subscribe:  email  on the sidebar  or follow on Facebook /  RSS feed  / bloglovin' /   twitter  and check out my  pinterest boards.   Share: if you found this helpful or inspiring please click one of the buttons below!  Your support of A Pinch of Joy is appreciated!
Save
Save

Related posts: