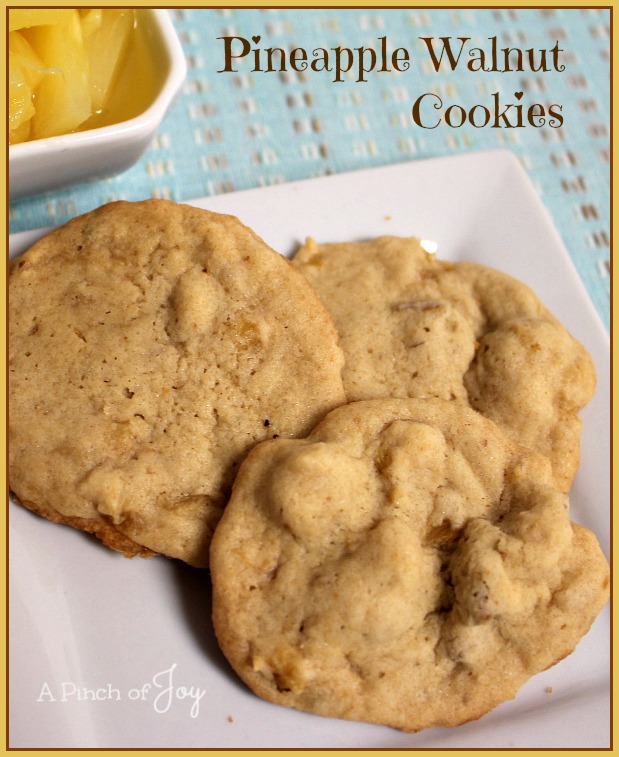 Pineapple Walnut Cookies shout surprise! The pineapple is not a list topper when you are thinking of cookie ingredients. The bits of pineapple bake sweet and a little chewy, a tasty second surprise. Rated superb taste in all categories – hot, cooled for 45 minutes, next day, and two days later.  (I have to hide the cookies for two days later category!)
Mixing the dry ingredients before adding them to the other ingredients insures that they will be thoroughly distributed in the cookie dough.  This is important for taste and to make sure that the leavening agents (baking powder and soda) are doing what they are supposed to do in each cookie evenly.  I confee I cheat when I am in the midst of a marathon baking session.  I add one leavening agent to the first cup of flour and sort of poke/mix it in the top inch or so before adding it to the mixture in the bowl.  I repeat for the second leavening agent in the second cup of flour. This keeps the leavening agents from ending up in one spot – the worst case scenario.    It works,  especially if the dry ingredients are not the last ingredient added.  

Pineapple Walnut Cookies
Author:
A Pinch of Joy by Charlene Vance
Ingredients
½ cup shortening
½ cup brown sugar
1 cup sugar
1 egg
1 teaspoon vanilla
1 teaspoon baking powder
¼ teaspoon baking soda
¼ teaspoon salt
2 cups flour
½ cup crushed pineapple, drained
½ cup walnuts, chopped
Instructions
Preheat oven to 375 degrees.
Cream shortening, sugars, egg and vanilla until light.
Add pineapple.
Gently mix dry ingredients together in a second bowl. Gradually add dry ingredients.
Add nuts and mix well.
Drop by teaspoonful onto greased or parchment lined baking sheet.
Bake for 12 to 15 minutes or until lightly browned.
Remove from oven and let cool 2 minutes before removing to rack to thoroughly cool.
A dozen great cookie recipes —   1. 
Fruitcake cookies
  2. 
Almond Coconut Crunch Cookies 
   3. 
Pineapple Walnut Cookies 
  4. 
Maple Caramel Swirl Cookies
      5. 
Peppermint Chocolate Thumbprints 
       6. 
Cherry Almond Chews 
    7. 
Polka Dot Macaroons 
    8. 
Red Velvet Cookies with white chocolate and walnuts 
    9. 
Butterscotch Pecan Softies – no bake 
     10.  
Toffee Crisps 
  11.
Crescent Mini Chip Cookies 
     12.
Minty Christmas Cookies
Bonus!!
Super Delicious Big Batch Cookies   A unique, crispy shortbread type cookie textured with oatmeal, coconut and chocolate chips.
Macaroons and Chocolate — Chewy Coconut macaroons dipped in smooth chocolate
Peanut Butter Chocolate Bars —  tastes just like the peanut butter cups in the bright orange wrapper
A dozen candy and no-bake recipes:     Christmas Wreath        Potato Chip Clusters    Cherry Mash Bars  Pistachio Fudge      Cinnamon Swirl Cream Cheese Mints      Classic Oreo Truffles  Cranberry Pistachio Chocolate Bark    Ritz Turtles   Fabulous Fudge    Gooey Golden Chex Mix    No-Bake Chocolate Cookies      Eggnog Fudge
For more sweet recipes check the A Pinch of Joy Desserts and Sweets gallery.
I'm so glad you stopped by today!   Be sure to follow A Pinch of Joy so you don't miss a thing! Subscribe by email  on the sidebar  or follow on Facebook, RSS feed, bloglovin'  twitter  and check out my  pinterest boards.   If you found this helpful or inspiring please share below!  Your support of A Pinch of Joy is  appreciated!
Save
Save
Save

Related posts: