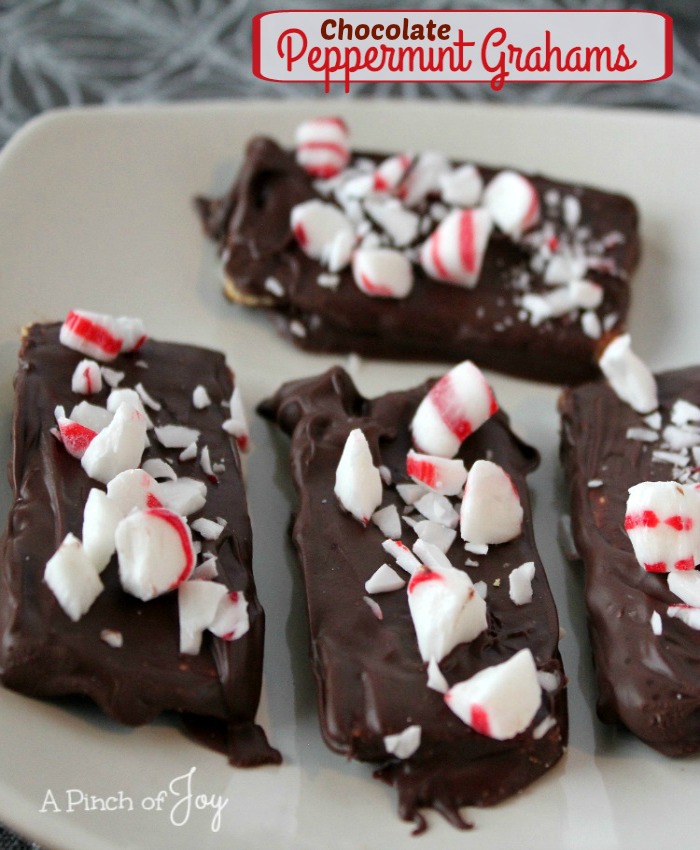 I am always confused by graham cracker measurements.   Different brands package their crackers differently.   What this recipe refers to are the crackers packaged in little 8 cracker squares – that are actually square. Other brands have rectangular crackers and people call them squares. But there IS a difference! Rectangles have two long sides and squares have sides the same length. Ask the little school person in your life!  Those rectangles contain TWO squares each. To break crackers, grasp each cracker along the perforation firmly with all four fingers on the bottom and the base of the thumb and the thumb itself on top. Snaps cleanly.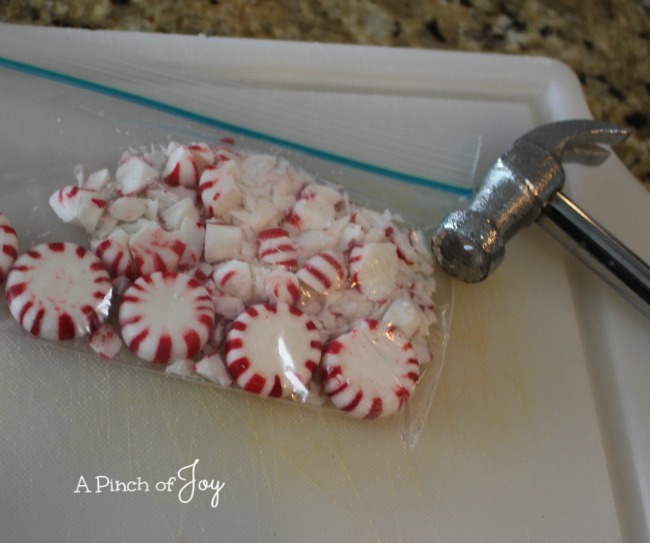 The easiest way to crush peppermint candies.  No hammer handy?  Use something unbreakable with a bit of weight.
You CAN dip the entire cracker into the chocolate. However – it's messy to make and messy to eat. And if you are a traumatized dipper like I am (Peppermint Patties) you avoid such controversy. I just spread and topped. Turned out fine and made more candies. The taste testers liked them both after they set overnight and the chocolate melded with the grahams.   Why get messy when you can avoid it, I say!   You may not be as messy as I am, so feel free to try the dip method.

Chocolate Peppermint Grahams - No Bake Treat
A no bake, no stress chocolate peppermint treat. Great to add to a party tray when you want a variety of treats with no leftovers!
Author:
A Pinch of Joy by Charlene Vance
Recipe type:
Desserts and Sweets
Ingredients
½ bag dark chocolate chips (approximately 1 cup)
¼ teaspoon peppermint extract
2 packages of 8 squares each graham crackers
9 peppermint candies, smashed into quarter inch pieces
Instructions
Break grahams in half and set aside.
Break peppermint candies (or candy canes) into small pieces and separate out from "crumbs".
Cover cookie sheet with waxed paper or parchment paper.
Melt chocolate in microwave safe bowl for one minute and stir. Microwave for additional 30 seconds and stir until chocolate is smooth. If there are still unmelted chips, repeat for 30 seconds and stir.
Hold graham between finger and thumb with one hand over top of the bowl of melted chocolate and spoon/spread chocolate on top with the other. Place graham side down on waxed paper.
When you have chocolate on 8-10 grahams, top with candy pieces. Press candy pieces into soft chocolate to keep them securely attached as the chocolate hardens. Repeat.
For other no-bake recipes :    
Christmas Wreath 
Potato Chip Clusters
Cherry Mash Bars
Pistachio Fudge
Cinnamon Swirl Cream Cheese Mints
Classic Oreo Truffles
Cranberry Pistachio Chocolate Bark
Gooey Golden Chex Mix 
No-Bake Chocolate Cookies
Eggnog Fudge
No bake cheesecake chocolate covered Bitty Bites
Grinch Kabobs
Peanut Butter
Double Chocolate
Bars
If you want cookies check these out —
1.  Fruitcake cookies   2.  Almond Coconut Crunch Cookies 3.  Pineapple Walnut Cookies
4.  Maple Caramel Swirl Cookies    5.  Peppermint Chocolate Thumbprints 6.  Cherry Almond Chews
7.  Polka Dot Macaroons   8.  Red Velvet Cookies with white chocolate and walnuts    9.  Butterscotch Pecan Softies     10. Toffee Crisps    11. Crescent Mini Chip Cookies      12. Minty Christmas Cookies
Save
Save

Related posts: