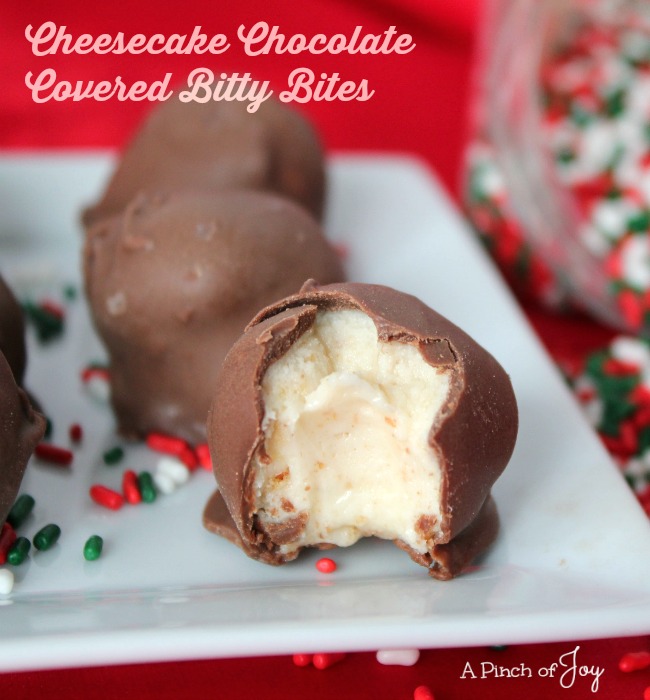 The first time I made these I was dismayed. These little things refused any attempt at decoration. Snowflake candies fell off, nonpareils just bounced to the side. Pretty little drizzles of colored melts, swirls – forget it. I don't have a whole lot of patience for "fiddling" as Grandma called it, so I put the chocolates aside and ditched the pretty picture in my head. Next day, Bytes said "those things are pretty good".   I bit into the crisp chocolate and was smitten with the soft, cheesecake goodness inside. Forget decorations and fancies. Just pure ingredients, well blended and aged properly. Moral of the story:   Listen to the candy, people!
In keeping with the goal of making smaller candies in smaller batches, this recipe makes 2 dozen. Recipe can be doubled and you can make the cheesecake balls larger. We like these best when stored at room temperature, but then they disappear very quickly at our house. If you plan to keep them more than 2-3 days, store tightly covered in the refrigerator.

No-bake Cheesecake Chocolate Covered Bitty Bites
Small servings in a small batch. Recipe can be doubled. Soooo good it will become a favorite!
Author:
A Pinch of Joy by Charlene Vance
Recipe type:
Dessert Candy
Ingredients
4 ounce cream cheese, room temperature
2 tablesoons butter, room temperature
4 squares graham crackers crushed (1/4 cup)
2 cups powdered sugar
5 ounces chocolate melts or bark
Instructions
Mix cream cheese and butter together until well combined.
Add graham cracker crumbs and mix well.
Add powdered sugar gradually and mix well.
Cover bowl and chill for at least one hour, overnight is good.
Cover cookie sheet with wax paper. Scoop chilled cheesecake from bowl in scant teaspoonsful. Roll each ball lightly to "round it" and place on wax paper. Slide cookie sheet with cheesecake balls back into the refrigerator. If they are very soft, plan to leave them there for 10-20 minutes.
Melt chocolate in microwave, following package directions, until chocolate is completely melted.
Remove cheesecake balls from refrigerator. Use a fork to dip each cheesecake ball into the melted chocolate, working quickly. Let excess chocolate drip off and use a second fork to push dipped candy onto the waxed paper.
Cool until hardened.
Watch for more no bake and no stress treats in small batches between now and Christmas.  For when you want to have a variety of treats without a lot of leftovers. 
 If you want cookies check these out —   1.  Fruitcake cookies   2.  Almond Coconut Crunch Cookies 3.  Pineapple Walnut Cookies    4.  Maple Caramel Swirl Cookies    5.  Peppermint Chocolate Thumbprints 6.  Cherry Almond Chews     7.  Polka Dot Macaroons   8.  Red Velvet Cookies with white chocolate and walnuts    9.  Butterscotch Pecan Softies     10. Toffee Crisps    11. Crescent Mini Chip Cookies      12. Minty Christmas Cookies
12 Days of Christmas candy and no-bakes:     Christmas Wreath        Potato Chip Clusters    Cherry Mash Bars  Pistachio Fudge      Cinnamon Swirl Cream Cheese Mints      Classic Oreo Truffles  Cranberry Pistachio Chocolate Bark    Ritz Turtles   Gooey Golden Chex Mix     Fabulous Fudge     No-Bake Chocolate Cookies
Save

Related posts: