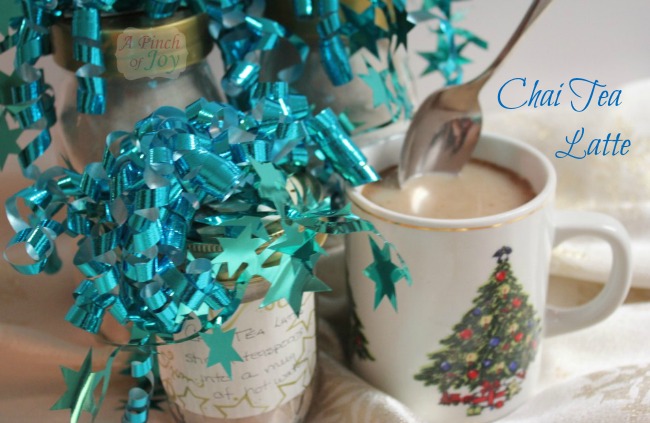 I have learned so much from my Secret Sisters.  You know, when a group draws names and each person becomes a secret sister for the person whose name they pulled out of the basket.  I have had awesome Secret Sisters!  They've written beautiful notes, shared their talents in different ways and introduced me to all sorts of new indulgences. One secret sister was a tea drinker who gifted me wonderful chai tea.  Mmmmmm — a cup of delight!  And of course, curiosity . . . . . .
"Chai" is from India where it means "tea". A combination of spices added to black tea in India eventually came to be associated with the word "chai" in English.  Even though tea is made with milk in India, English speakers began using an Italian "latte" to indicate that fact.   So when we refer to chai tea latte, we are really saying "milky tea, tea, milk".  Or something like that. . . . A little odd when it is the spices that set it apart and make it distinctive.
There are recipes for chai spice that use different flavors, but the four that seem to be common to most recipes are cinnamon, ginger, cardamom and cloves.  Cardamom is a native of India and is what gives the drink its very distinctive flavor.  It is also rather expensive in the average sized spice bottle.  I don't want you to gasp with sticker shock!   It causes other shoppers start to back away, then turn and move rapidly in the other direction. Not that I have personal knowledge –maybe they all just remembered an appointment at the same time.    An average sized bottle will make several batches but you can also look for it in ethnic sections of the grocery store or ethnic stores where it is less expensive.  Amish stores are another less expensive source, if you happen to live near one.
This recipe is Americanized with iced tea mix as the base and nondairy creamer and nonfat milk as the latte.   The spices used, other than the cardamom, are ones frequently found in most cupboards.  I experimented with different combinations and with the amount of sugars before arriving at this.  A HUGE thank you to the Fabulous Four , including the once-Secret Sister,  who taste tested and offered opinions.  You'll thank them too since we all ended up with this smooth, spicy and satisfying drink!
You can package this for gifts for your Secret Sister, friends and neighbors in small decorative containers, or jars.  For favors or just a taste gifts, you can make packets like these.  I printed the recipe on the plain back of scrapbook paper, stapled a snack sized bag with one serving of the drink to the paper and then folded it in thirds and tied it with a ribbon.   A presentation copy of the recipe is available for download on  A Pinch of Joy  facebook from the Exclusive Download page.  
You might also like to check out this Chai Bread recipe! 
Chai Tea Latte Mix
Ingredients
1½ cups instant tea, decaffeinated if you want
1 cup vanilla flavored non-dairy creamer
1 cup non-dairy creamer
1 / 2 cup non-fat dried milk
1½ cup confectioner's sugar
⅓ cup brown sugar
1 teaspoon ground ginger
1 teaspoon ground cinnamon
1 teaspoon ground cloves
1 teaspoon ground cardamom
1 teaspoon ground allspice
½ teaspoon ground nutmeg
Instructions
Combine all ingredients in food processor, pulse for two minutes. Stir with rubber spatula and pulse another minute.
Store in air tight container.
Measure four teaspoons into mug, fill with hot water and stir.
Enjoy!!! 48 servings
Don't miss a thing!  Like A Pinch of Joy on facebook, sign up for email updates, RSS, bloglovin' or twitter! 

Related posts: