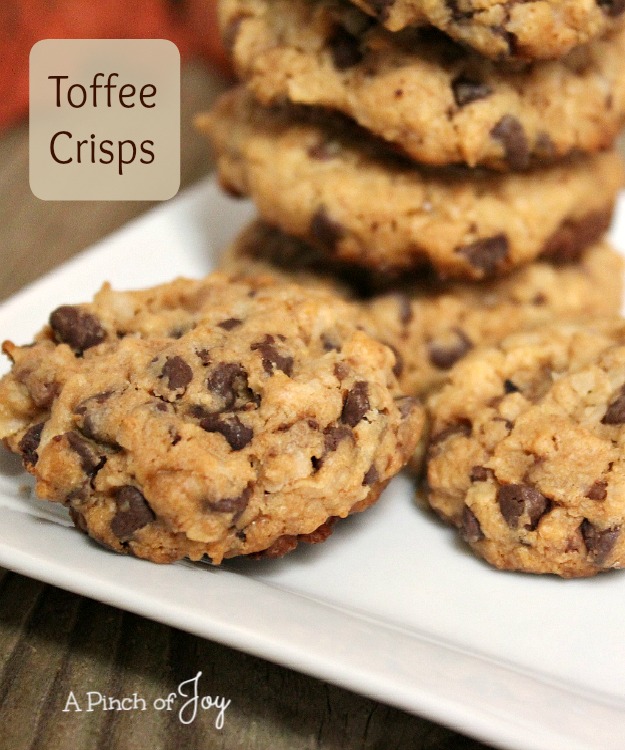 Toffee Crisps seemed a bit unusual to me in that it was a baked cookie recipe using graham cracker crumbs for thickener and condensed milk for sweetener.   It is a very goooood combination!! If you crush the graham crackers, you'll need about 32 squares to make 2 cups. That's about the most complicated thing in making these delights. Very quick and easy. The dough is thick and can be shaped into a relatively uniform circle very easily as you push them off a tablespoon. I've rolled them into balls between the palms of my "very clean" hands – but that is not necessary. What IS necessary is keeping a close eye on the baking time, as these go from brown to overdone very quickly.

Toffee Crisps
Author:
A Pinch of Joy by Charlene Vance
Ingredients
½ cup butter, softened
1 can, 14 ounces, sweetened condensed milk
2 cups graham cracker crumbs
¾ cup flour
2 teaspoons baking powder
1 package, 12 ounces, semisweet chocolate chips
1 cup English toffee bits
1 ½ cups flaked coconut
Instructions
Combine butter and milk in large mixing bowl until well mixed.
Combine graham cracker crumbs, flour and baking powder in separate bowl and gradually add to the butter mixture.
Stir in chocolate chips, toffee bits and coconut
Drop by round tablespoonsful about 2 inches apart on greased baking sheets.
Bake at 375 for 9-11 minutes or until edges are lightly browned.
Let set on cookie sheet for two minutes before removing to wire racks to cool.
A dozen great cookie recipes —  check back daily to see the Cookie of the Day!
1.  Fruitcake cookies
2.  Almond Coconut Crunch Cookies
3.  Pineapple Walnut Cookies
4.  Maple Caramel Swirl Cookies
5.  Peppermint Chocolate Thumbprints
6.  Cherry Almond Chews
7.  Polka Dot Macaroons
8.  Red Velvet Cookies with white chocolate and walnuts
9.  Butterscotch Pecan Softies – no bake
10.  Toffee Crisps
11.   Crescent Mini chip Cookies
12.  Minty Christmas Cookies
Bonus!!
Super Delicious Big Batch Cookies   A unique, crispy shortbread type cookie textured with oatmeal, coconut and chocolate chips.
Macaroons and Chocolate — Chewy Coconut macaroons dipped in smooth chocolate
THE Best Easy Gift Fudge —  It only takes 5 minutes to stir and slice this creamy rich fudge (plus a couple hours in the fridge)
No Bake Chocolate Gems – a chocolatey, chewy sweet treat that is so easy to make anytime
Peanut Butter Chocolate Bars —  tastes just like the peanut butter cups in the bright orange wrapper
For more sweet recipes check the A Pinch of Joy Desserts and Sweets gallery.
I'm so glad you stopped by today!   Be sure to follow A Pinch of Joy so you don't miss a thing!  I'd love to have your company on this venture!!

Subscribe:  email  on the sidebar  or follow on Facebook /  RSS feed  / bloglovin' /   twitter  and check out my  pinterest boards.   Share: if you found this helpful or inspiring please click one of the buttons below!  Your support of A Pinch of Joy is appreciated!
Save

Related posts: