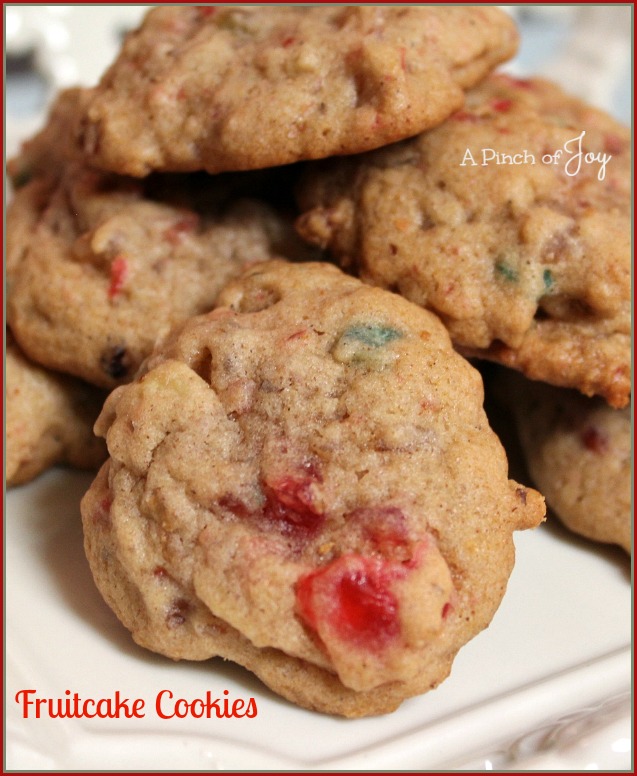 I love fruitcake. I confess I feel lonely in this obsession sometimes – especially with the jokes– but there must be other fruitcake lovers somewhere.   (Aren't there? Please??!)  True, there are good recipes and bad recipes and some commercial fruitcakes are not worthy of the name. Still I'll gladly sample and discard the bad in order to find and savor the good fruitcake! The truly stellar fruitcake contains a chorus of textures, a symphony of spices and a supporting cast of cakey goodness. This fruitcake cookie is truly stellar!!
These go together quickly in the order given. Mix the spices with part of the flour and they will be evenly distributed in the cookie, with no hot spots of nutmeg or cinnamon. Mixing the fruitcake bits of candied citrus peel and fruits, the nuts and dates keeps them from sinking to the bottom of the mixture or cookie. The original recipe from a newspaper clipping called for dates, but I don't always have them on hand and don't like to buy for such a small amount. (Not cheap – frugal!) I have substituted raisins, golden raisins and candied cherries. I haven't tried them but I think dried cranberries would also work.

Fruitcake Cookies
Author:
A Pinch of Joy by Charlene Vance
Ingredients
½ teaspoon baking soda
¼ teaspoon ground cloves
¼ teaspoon nutmeg
½ teaspoon cinnamon
1 ½ to 1 ¾ cup flour
8 ounce package fruitcake mix
⅓ cup chopped dates OR golden raisins
¾ cup chopped English walnuts
¾ cup granulated sugar
½ cup butter
2 eggs
Instructions
Preheat oven to 350 degrees.
Mix baking soda, spices with 1 cup flour and set aside.
Mix the fruitcake mix, dates and nuts with ½ cup flour until coated and set aside.
Cream sugar and butter until light.
Add eggs and mix well.
Add flour and spices from step 2 and mix well.
Blend in fruit and nut mixture.
Dough will be sticky and appear somewhat shiny. Add remaining ¼ cup of flour, 1 tablespoon at a time. You may not need all of it, depending on the size of the eggs used. Dough consistency should be thick enough to hold shape but will still be sticky.
Line cookie sheet with parchment paper OR grease well.
Drop cookie dough by teaspoonful on prepared cookie sheet about 2 inches apart.
Bake for 10-12 minutes until light brown on the bottom.
A dozen great cookie recipes —   check back daily to see the Cookie of the Day!
1.  Fruitcake cookies
2.  Almond Coconut Crunch Cookies
3.  Pineapple Walnut Cookies
4.  Maple Caramel Swirl Cookies
5.  Peppermint Chocolate Thumbprints
6.  Cherry Almond Chews
7.  Polka Dot Macaroons
8.  Red Velvet Cookies with white chocolate and walnuts
9.  Butterscotch Pecan Softies — No bake
10. Toffee Crisps
11.  Crescent Mini Chip Cookies
12. Minty Christmas Cookies
Bonus!!
Super Delicious Big Batch Cookies   A unique, crispy shortbread type cookie textured with oatmeal, coconut and chocolate chips.
Macaroons and Chocolate — Chewy Coconut macaroons dipped in smooth chocolate
THE Best Easy Gift Fudge —  It only takes 5 minutes to stir and slice this creamy rich fudge (plus a couple hours in the fridge)
No Bake Chocolate Gems — a chocolatey, chewy sweet treat that is so easy to make anytime
Peanut Butter Chocolate Bars —  tastes just like the peanut butter cups in the bright orange wrapper
I'm so glad you stopped by today!   Be sure to follow A Pinch of Joy so you don't miss a thing! 
Subscribe by email  on the sidebar  or follow on Facebook, RSS feed, bloglovin'  twitter  and check out my  pinterest boards.   If you found this helpful or inspiring please share below!  Your support of A Pinch of Joy is  appreciated!
Save
Save

Related posts: